Do you know what Emailtabsearch.com is?
If your homepage, New Tab page, and the default search provider were replaced with the suspicious Emailtabsearch.com, it is most likely that you have downloaded the MyEmailTab add-on. Although this supposedly beneficial program can be downloaded from the Chrome web store and the official download page, lp.myemailtab.com, most users find it spread by third-party installers. As you might know already, third-party installers are often employed for the distribution of multiple programs. Did you know that malicious installers exist as well? These installers can be used for the infiltration of truly dangerous and malicious infections, which is why you need to be cautious. Although we do not identify MyEmailTab as a critically dangerous threat, it is not considered harmless either. Unfortunately, much more malicious threats could come bundled with it. This report was created to help you delete Emailtabsearch.com, but it also shows how you can remove all other infections.
The suspicious MyEmailTab is also known by the name "Email." Obviously, this application is associated with emailing services, and it provides its users with easy-access links to Gmail, AOL, Yahoo, Outlook, and Hotmail. According to the official information, by using this add-on, you will save time you would spend "typing in the URL for Your Email." Is it really that time consuming? In fact, our research team is surprised that computer users are attracted by something as trivial as this. Of course, most users acquire this add-on via software bundles that are promoted using pop-up advertisements, and it is possible that they install it without fully knowing how it works. Although the extension is kind of useless, its main purpose is to introduce you to Emailtabsearch.com. In fact, this browser hijacker is an integral part of the add-on, and the extension is fully represented via the hijacker itself. We have seen the same thing to happen with the MyRadioTab extension associated with the Radiotabsearch.com hijacker.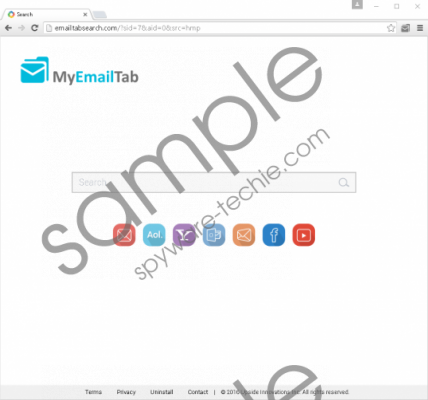 Emailtabsearch.com screenshot
Scroll down for full removal instructions
Emailtabsearch.com presents links to different emailing services, but that is the only connection to the supposedly beneficial MyEmailTab extension. Other than that, this search provider is meant to record information about you, redirect you to a third-party search engine, and display advertisements. The search engine this hijacker redirects to is search.yahoo.com (Yahoo Search), but the results shown via it can be modified to include sponsored links. On top of that, these links might be selected and even created according to the information collected about you. Tracking cookies are employed for this purpose, and they might record personally-identifiable information as well. The Privacy Policy available at nupside.com/privacy.php informs that "the data collected may include PII." Even if that is accidental, you need to treat that as a potential risk. Overall, Emailtabsearch.com is not a beneficial or reliable search tool, and we recommend deleting it as soon as possible. Luckily, that is very easy to do.
You will not be able to change the homepage and default search provider to remove Emailtabsearch.com. This extension is part of MyEmailTab, and so you need to delete this extension. There are several ways to get rid of this add-on, but we offer the easiest, most straightforward option of all. After you erase the unwanted extension, you need to install a trusted malware scanner to examine your operating system. This step will help you identify malware if it exists on your PC. As mentioned previously, much more dangerous threats could have invaded your operating system along with the hijacker if you have downloaded it using an unfamiliar third-party installer. If you skip the scan, you might overlook serious infections, and your virtual security could be jeopardized. Note that if you are unable to erase these threats manually, you can use an automated malware remover.
Delete Emailtabsearch.com
Open the Google Chrome browser.
Simultaneously tap Alt+F to access a menu.
Click More tools and then Extensions.
Find the unwanted add-on and click the recycling bin.
Select Remove and then restart the browser.
In non-techie terms:
Emailtabsearch.com is a hijacker that performs redirecting to third-party sites and that can showcase advertisements instead of regular search results. This hijacker can also spy on you and collect personally-identifiable information. We strongly recommend eliminating this infection from your operating system, and you have to do this by erasing the extension it is associated with. The good news is that the removal of this undesirable software is easier than it might appear to be at first. Use the comments section below to start a conversation about anything that might still worry or interest you.