Do you know what EGGLocker Ransomware is?
EGGLocker Ransomware was not a real threat at the time of research because it did not encrypt any users' files; however, it might become a prevalent infection in the near future. We suspect that this malicious application did not lock files stored on the affected computer because it was still in the development phase. It might soon get updates and start acting completely differently, so never keep your system unprotected. If you have already encountered the updated version of EGGLocker Ransomware and your files have been locked, you will surely be asked to pay money for the decryption service. Do not even think about sending money to cyber criminals. There are no guarantees that your files will be unlocked or you will get the decryption tool to decrypt them yourself. Ransomware infections use strong encryption algorithms, so there are usually no other ways to unlock encrypted data. The only possible solution to the problem may be the restoration of files from a backup. In such a case, the malicious application must be removed from the system completely first.
At the time of the analysis, EGGLocker Ransomware did not encrypt any files and did not drop a file/display a window with a ransom note, which is quite surprising because ransomware infections are used to obtain money from users. We would lie if we told you that EGGLocker Ransomware did not do anything. Specialists say that this infection created files having names of users' original files with .EGG appended to all of them. Also, it dropped EGG.txt on the system. Once this malicious application is updated and fixed, there is no doubt that EGGLocker Ransomware will lock your files mercilessly the first thing after the successful entrance and then will ask you to send money for their decryption. Most probably, you will find that message in the EGG.txt file, but, of course, there is a possibility that the updated version of this ransomware infection will drop another file. Even though EGGLocker Ransomware did not work properly at the time of research, our team of researchers managed to find out that it targets files located in %USERPROFILE%\Desktop, %USERPROFILE%\Pictures, %USERPROFILE%\Documents, %USERPROFILE%\Music, %USERPROFILE%\Favorites, %USERPROFILE%\Recent, and %AppData%\Microsoft\Windows\Cookies. Have you already encountered this infection? If yes is the answer to this question, we are sure your files located in these directories have been completely locked too.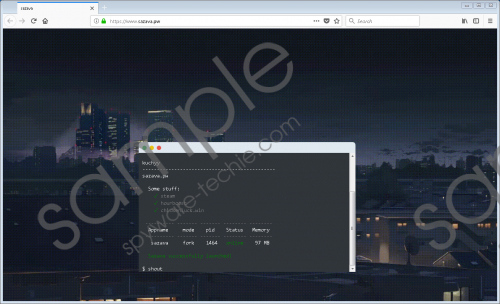 EGGLocker Ransomware screenshot
Scroll down for full removal instructions
EGGLocker Ransomware is not a very popular infection, but do not be so sure that it cannot enter your system. If you have not encountered it yet, it means that you can still prevent it from entering your system. Our security specialists have two pieces of advice for you. First, stop opening spam emails and do not go anywhere near attachments they contain. Second, stop downloading applications from dubious websites because you will eventually download malicious software from the web. Finally, it is advisable to have security software enabled at all times because the Internet is a dangerous place and there are hundreds of threats that are looking for security loopholes.
EGGLocker Ransomware creates one folder, a .txt file, and kills explorer.exe, steam.exe, skype.exe, and ts3client_win64 processes, but we do not think that you will find its removal extremely complicated because it can be erased by simply removing two components (the .txt file and the folder) and deleting suspicious recently downloaded files in order to erase the malicious file opened. Instructions provided below will help you to take care of it without any special tool, but if you are looking for a quicker solution to the problem, we recommend performing a scan with an antimalware scanner.
How to delete EGGLocker Ransomware
Press Win+E simultaneously.
Open your Downloads folder.
Delete all suspicious files you have downloaded recently.
Remove EGG and EGG.txt from Desktop.
Empty Trash.
In non-techie terms:
EGGLocker Ransomware is a malicious application that might illegally enter your system one day. This usually happens to those users who keep their computers unprotected. It did not lock any files at the time of research, but you might not be so lucky. It is very likely that all your files will be completely locked after its entrance, and then you will be asked to send a ransom to get them unlocked. Make sure you do not do this because you might be left both without your personal data and your money.