Do you know what eFix Pro is?
Testing in our internal lab has concluded that eFix Pro is a potentially unwanted application. It does not mean that that the program is malicious, but still, it would be better if you would remove this application, because it does not do anything that would significantly benefit you, especially for this hefty purchase price. If you have eFix Pro, and you think that it has been a good investment, read the article. You will be surprised to find that it is not as useful as it is claimed to be. Finally, if you decide to remove the application, follow the instructions at the end.
eFix Pro is not the first of its kind. Not so long ago we analyzed an application called Reimage, which is identical to eFix Pro. Oddly enough the name of the developer that produced these two programs is called Reimage Ltd. just like its clone eFix Pro has become very popular due to clever marketing tactics. The program is known to be bundled with other software, and distributed on freeware sharing websites, such as Softpedia.com, Softonic.com, and so on. The application is also distributed using a dedicated website, called Efix.com. The website features two versions of the program, but we will focus on eFix Pro.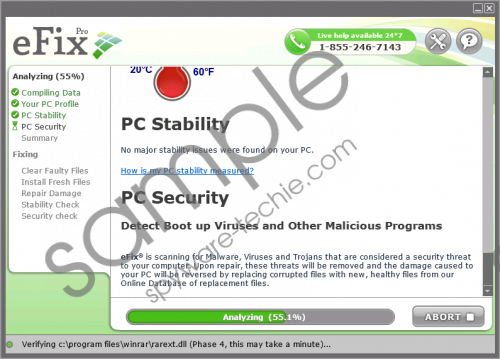 eFix Pro screenshot
Scroll down for full removal instructions
The program is set to detect hardware issues, such as low system memory, hard disk speed, CPU power and temperature, and so on. Oddly enough the application is said to detect malware such as rootkits, spyware, worms, and many others, but on one page of the website, it says that the application is not an anti-virus program, and that the user should get one. This is quite confusing, and many users might not be getting what they have been expecting. System stability is also a concern for this application. That is why it will tell you what programs crash most often and how frequently.
When you run a system scan, the application will inevitably find numerous registry errors and junk files. Do not be alarmed by this. This is commonplace for Windows operating systems. It is inherent, so no matter how many times you will scan your system, eFix Pro will always find hundreds and even thousands of errors (the amount depends on the scanning frequency). So the application tries to fix something that is not even an issue and charges money for it. After running a scan with eFix Pro and clicking the repair button, a browser window will open, and you will be redirected to the application's main website. You will be offered to buy the product for a mere €61.95, but the developers are not greedy, no. They will make a substantial discount for the second license key. Of course the choice is yours to make. The application does not contain any malicious traits. But it is not all that useful.
We at Spyware-techie.com suggest removing this application using our manual removal guide located at the bottom of this article. We are of the opinion that you can find much better and free application that will perform these tasks. But in truth, you do not need to clean your registry or junk files at all, because they will eventually start accumulating again, and they do not pose any threat to your system's security or stability. So, feel free to remove eFix Pro.
Remove eFix Pro from the computer
Windows 8 / Window 8.1
On your keyboard press the Windows key + X.
Open the Control Panel, and click Uninstall a program.
Locate eFix Pro, and right-click on it.
Click Uninstall.
Windows Vista / Windows 7
Open the Start menu.
Click Control Panel.
Select Uninstall a program.
Locate eFix Pro, and right-click on it.
Uninstall the infection.
Windows XP
Open the Start menu.
Click Control Panel.
Select Add or remove programs.
Locate eFix Pro, and click Uninstall.
In non-techie terms:
eFix Pro is a potentially unwanted program, because it does not contribute to the security or stability of the computer all that much. The application is capable of detecting some malicious applications, but definitely not all of them. It does fix registry errors, and cleans junk files, but all of that is in vain, because the errors are going to keep appearing again and again. Besides, the application is way too expensive for the task it is supposed to do. So, there is no harm is removing eFix Pro at all.