Do you know what Edu App is?
If the commercial content on your Internet browser has increased, you should check whether your system has been infected with Edu App. If you detect this application on your machine, remove it immediately if you want to terminate all the pop-ups, banners, coupons, and discounts that have been bothering you since this adware app slithered on your system. Edu App is promoted as a useful application that compares prices of online retailers and provides users with the best shopping opportunities. However, you will rarely find this commercial content of any use, even if you do enjoy shopping online; therefore, delete Edu App, restoring your browser to its previous ad-free self.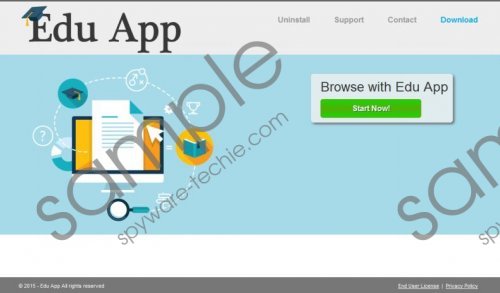 Edu App screenshot
Scroll down for full removal instructions
Edu App is one of the recent applications belonging to the SuperWeb family. If you are already familiar with this group of adware apps, you will notice that this application is identical to such older counterparts as Shop Easy, Sharp Angle, Fruit Basket, and others. And, like all these older applications, Edu App spams your Internet browser, whether it is Internet Explorer or Mozilla Firefox, with various links to third-party sites that might not even be safe. You should remove this application, and thereby stop ads from showing up on your screen, because accessing them might reroute you to unmonitored third-party sites hosting Internet-based infections.
Computer users also dislike, and thus delete, the SuperWeb applications due to their annoying and sometimes even intrusive behavior. For example, Edu App is also known to take advantage of tracking tools to follow your web surfing activites in order to custom-tailor commercial content you are being served. This activity might result in an unwanted data leak, especially considering the undisclosed third-parties affiliated with this Edu App, so you should delete this adware program to prevent sensitive date from falling into the wrong hands.
Edu App is not accessible via its official site eduapphome.com, so you should be careful not to install it with other applications. This happens when computer users download software from unreliable file distribution sites, not paying attention to third-party installers that drop additional applications alongside the main program. This is why developers of malicious content especially love this method of distribution – computer users become aware that their system is infected when it is already too late.
We think it is high time you acquired the necessary tools to remove Edu App from your machine. All you need to do is purchase a legitimate antimalware software that will scan your machine 24/7, cleaning your system of all the malicious content. If you want to remove Edu App manually, you can do that by following the removal guide below this article. Still, we cannot stress enough how important it is to keep your computer under continuous protection, which is something only a trustworthy antimalware program can ensure.
Delete Edu App from your machine
Windows 8 & 8.1:
To reach Settings, open the Charm bar at the bottom right corner of your screen.
Choose Control Panel.
Switch to Small Icons under View by and open Programs and Features.
Click on Edu App in the program list.
Click Uninstall/Change to remove the unwanted application.
Windows 7 & Vista:
Click the Start button to open the Start menu and select Control Panel.
Switch to Small Icons under View by and click Programs and Features.
Select Edu App in the program list.
Click Uninstall/Change.
Windows XP:
Click the Start button to open the Start menu and select Control Panel.
Switch to Category View and open Add or Remove Programs.
Select Edu App in the program list.
Click Remove.
In-non techie terms:
Edu App is an advertising-supported application that might cripple the security of your computer by displaying unreliable ads on your Internet browser. This application might take you to suspicious websites established by malicious third-parties to spread dangerous content. Employ a legitimate antimalware scanner to remove this unreliable application from your machine.