Do you know what Eco Search is?
Eco Search might sound like a tool for people who are interested in eco-friendly products, but our computer security specialists say that it is just another potentially unwanted program that might show modified search results. In some cases, such tools gather information about users' browsing to learn about their interests and inject their search results with tailored advertisements. We do not say that this search tool necessarily works this way, but there is a possibility it could. Thus, if you came across it, we recommend reading our full report to learn more about it. Also, we can offer the removal guide available below this article that shows how to erase Eco Search manually. Should you need more help or have any questions about this potentially unwanted program, do not hesitate to leave us a comment at the end of this page.
At the moment, Eco Search can be found on Chrome Web Store, a platform offering extensions for Google Chrome users. It is unlikely that it could be found on similar platforms belonging to other browsers, as it seems this add-on is only compatible with Google Chrome. Also, our researchers say that like similar potentially unwanted programs, it could be distributed with redirects. It means that users could get redirected to websites offering it after interacting with file-sharing sites or advertisements. Naturally, to avoid being redirected to offers of potentially unwanted programs or software alike, we advise keeping away from questionable pop-ups and file-sharing sites. Also, you might get warned about suspicious proposals if you keep your browser up to date as well as get a reputable antimalware tool.
It seems that if Eco Search gets installed, it might change Google Chrome's default search engine, homepage, or new tab page with a specific search website. According to our researchers, the extension's search tool might redirect to modified Bing search results. It is possible that they could be injected with advertisements from various third-parties, although we cannot be sure. In fact, there are more things that we might not get a chance to learn about Eco Search because it might not have Privacy Policy and End User License Agreement papers. As you probably know, such documents are supposed to contain information about what kind of data an application could gather and how it would be used, whether a tool could show advertisements, get updates, and so on. In other words, they are supposed to provide everything that users ought to know before installing new software. Thus, it is extremely important that they get provided.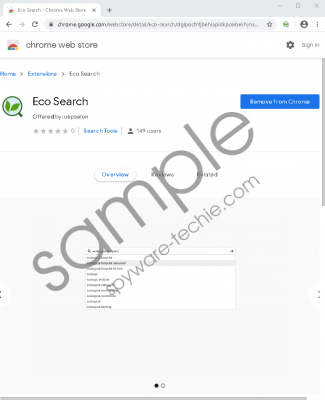 Eco Search screenshot
Scroll down for full removal instructions
If you decide that you do not like how Eco Search works or do not want a potentially unwanted program on your system, we could help you get rid of it. Firstly, you could try to remove it through Google Chrome's extensions menu. If it does not work or the task seems too challenging, we encourage you to get a reputable antimalware tool that would erase Eco Search for you.
Erase Eco Search
Open Google Chrome.
Paste this link: chrome://extensions into the browser's address bar.
Press Enter and search for the potentially unwanted program.
Tap Remove located new to Eco Search and exit Extensions menu.
Restart your browser.
In non-techie terms:
Eco Search is a browser extension that might change your browser's preferences, such as your homepage, to provide you with a particular search tool. Some may find this quality annoying, which is one of the reasons why the application got classified as a potentially unwanted program. Our researchers say that it might also show modified search results, which means they could be injected with third-party advertisements. Plus, users should know that the application might not have Privacy Policy and End User License Agreement documents, which cybersecurity experts recommend reading before installing new tools. If all things considered, you decide that there is no place on your system for such an add-on, you could delete Eco Search with the removal guide available above. The other way to get rid of it is to scan your computer with a reputable antimalware tool.