Do you know what EasyPDFCombine Toolbar is?
EasyPDFCombine Toolbar is a PDF-specific tool developed by Mindspark Interactive Network that is recommended to be removed because it will not provide you with any unique features you could not find on other legitimate applications like those of Adobe Acrobat family or similar. Moreover, like other Minspark created tools, Zwinky Toolbar, MyscrapNook Toolbar, RetroGamer Toolbar, it is an annoying addition to your browser that changes the default search engine and homepage to ask.com, an advertising-supported search engine. It is not that common that we need to merge separate PDF files into one PDF during our everyday Internet browsing; hence, as you see, you should delete EasyPDFCombine Toolbar because it is just not that useful to have it on your browser.
You probably would not want to keep EasyPDFCombine too long on your system because it works as any other adware software. First of all, it changes your default homepage and search engine without explicitly asking you to confirm the change. This toolbar and the search engine it comes with collects information about your browsing patters in order to enhance quality of its service, i.e., to provide you with the best, most alluring promoted links. However, it is almost a general rule that adware should be deleted as you might never know what kind of personally identifiable information is being collected and to what purposes it is being used.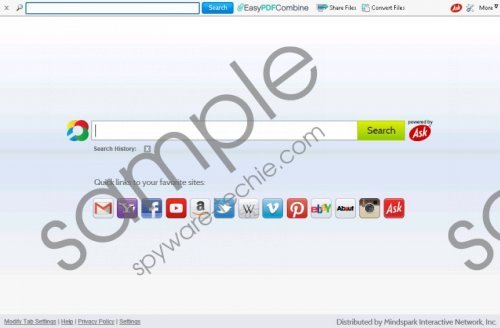 EasyPDFCombine Toolbar screenshot
Scroll down for full removal instructions
The reason why you ought to remove EasyPDFCombine Toolbar is that ask.com is not the most reliable search engine for your everyday web browsing. Whenever you enter your query it generates sponsored links redirecting you into third-party sites. Some of the results might not be directly related to your search query, hence, irrelevant for the research you are doing. Bear in mind that Ask.com might also promote unreliable links which, when clicked, might redirect you to potentially dangerous websites. The best preventative measure to guarantee you are never provided with insecure links is to remove EasyPDFCombine Toolbar and restore your default search engine.
If your default Internet browser is Internet Explorer, you will be able to uninstall EasyPDFCombine completely through Control Panel. However, Mozilla Firefox and Google Chrome users must remove the extension manually via add-ons managers of the respective browser. It is also possible that the removal will not restore your previous homepage and search provider. It might seem that it is a lot of work but follow the instructions below that will make the process as streamlined as possible. Remember, having a legitimate antimalware program would lessen the chance that your computer will get infected while similar suspicious toolbars as EasyPDFCombine are present on your computer.
Delete EasyPDFCombine from your system
Windows 8 and 8.1
Open the Charm bar, choose Settings.
Click Control Panel, and then open Open Programs and Features.
Select EasyPDFCombine Toolbar.
Click Uninstall/Change.
Windows 7 and Vista
Open the Start menu, and then select Control Panel.
Click Programs, choose Uninstall a program.
Find and select EasyPDFCombine Toolbar.
Click Uninstall/Change to initiate the removal process.
Windows XP
Open the Start menu, select Control Panel.
Choose Add or Remove Programs.
Detect and click on EasyPDFCombine Toolbar.
Click Remove.
Restore your browser
Restore your Internet browser
Internet Explorer:
Press Alt and open the Tools menu.
Choose Manage Add-ons.
Click Search Providers on the left side.
Set a new default search engine, and then Remove Ask.com.
Click Toolbars and Extensions.
Disable EasyPDFCombine.
Close the manager.
Open the Tools menu again, and now choose Internet Options.
Click the General tab, enter your homepage address.
Click OK.
Restart your browser.
Mozilla Firefox:
Click the search provider icon on the search box.
Choose Manage Search Engines.
Remove the search provider and click OK to confirm.
Open the Tools menu and click Add-ons.
Go to Extensions.
Remove/Disable the undesirable extension.
Close the Add-ons Manager.
Open the Tools menu.
Select Options.
Choose the General tab and find the When Firefox starts menu.
Choose Show my homepage from the list.
Now enter the new homepage URL.
Click OK.
Restart the browser.
Google Chrome:
Open the menu on the right of the address bar.
Choose Extensions on the right side of the screen.
Click the trash icon next the extension you want to get rid of.
Click Remove.
Select Settings on the left, and look for On Start-up.
Check Open a specific page or set of pages.
Click Set pages on the right.
Enter the new homepage URL and click OK.
Go to Appearance, select Show Home button.
Click Change.
Type in the new URL, click OK.
Go to Search and click Manage search engines.
Select a new search engine, and then click Make Default on the right.
Click X to remove the search engine.
Click Done.
Restart the browser.
In non-techie terms:
EasyPDFCombine Toolbar is a browser add-on that you will not find useful during your everyday Internet browsing. It might also expose you to potential threats by promoting sites of unpredictable content; also violate privacy by tracking personal information related to your browsing activities. Remove EasyPDFCombine Toolbar and use reliable Internet security tool to keep your computer malware-free.