Do you know what EasyHotspot is?
EasyHotspot is a questionable application that has proved to be useless and also potentially harmful after careful testing in our internal lab. According to our researchers, this program is practically identical to WizzWifiHotSpot, although seemingly they were developed by two different companies. However, one look at these applications and their websites can raise the question if these companies are not indeed one entity after all. Our researchers have found that EasyHotspot does not deliver as promised. This application is supposed to change your PC into a WiFi hotspot so that you can share Internet connection with your family and friends, but this function does not seem to work at all. Instead, however, you may be annoyed by potentially unreliable third-party advertisements. Due to this kind of behavior and its capabilities, we have categorized this software as an adware application. You should not engage with any content coming from this adware. In fact, we suggest that you remove EasyHotspot as soon as possible. But it is likely that this is not even the only threat you are facing right now. Please read on to find out more.
This ad-supported program is claimed to be created by Asia Software Tools, while its identical clone by Wizzlabs. You can find the official website at easyhotspot.asiasoftwaretools.com where you can also download this program. According to our researchers, it is quite unlikely that many users install this software willingly and knowingly by visiting this website. As a matter of fact, it is more likely that you download it in a freeware bundle while visiting an unfamiliar file-sharing website. You must have noticed that there are webpages that host a number of annoying banner and pop-up advertisements. These are most commonly dating, pornographic, torrent, and freeware websites. You should know that clicking on any content on these suspicious sites can easily drop a malicious bundle onto your machine that will contain several malware infections. Adware programs rarely travel alone. So if you have EasyHotspot on your system, there is a good chance that you may find browser hijackers, other adware programs, and potentially unwanted programs as well. This could mean multiple system security threats that you may not even tackle by yourself since even if you delete EasyHotspot, just enough infections may remain to harm your computer.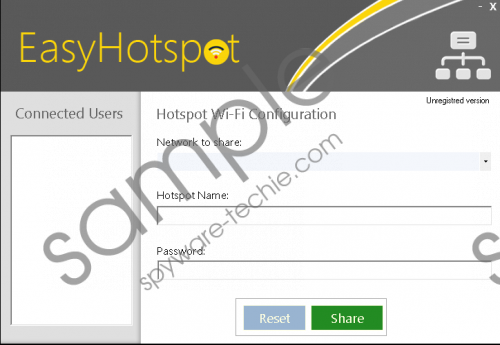 EasyHotspot screenshot
Scroll down for full removal instructions
If you are in doubt, you can manually try to find the suspicious applications on your computer. You can check in the list of installed programs, the process list in Task Manager, and the list of extensions in your browsers. These are the most common places where even inexperienced computer users may be able to spot potentially harmful applications. Once you find a questionable application, you can search our database for a description. If it is a threat, it is quite likely that you will find it on our website along with instructions to remove the infection. However, there are more clandestine and more dangerous threats as well that you cannot detect this way. That is why it would be more effective to use a free online malware scanner. But make sure that it is a reliable one; otherwise, you may end up having more security issues than before.
EasyHotspot pretends to be a useful desktop application that offers you "the possibility to share your internet connection with your friends and familly with a simple buttton click with custom name and parameters" as you can read on its promotional website with a couple of typos as you may have noticed. Since the publishers have nothing else to say about this useless product, they decided to use the same promotional sentence once more on the same page; well, actually right below this paragraph. Our research shows that this program does not even function the way it is supposed to. Instead, it may take up to 5-20 minutes for it to start up. What's more, this application makes sure that it runs automatically with Windows. This is a real issue here because the main process called explorer.exe does not actually load until this suspicious adware starts up. This could make a system reboot rather painful and annoying, too. But apart from not functioning as a WiFi hotspot, this adware may start displaying potentially unreliable third-party advertisements. It is always risky to click on such ads because you can never be sure where you might be redirected to. Since there is a chance to end up on malicious websites, you should be very careful whenever you are exposed to such suspicious web content. We advise you to never click on third-party advertisements unless you are perfectly certain that there is no adware infection on board and you are viewing a reputable website. If you do not want to risk downloading more malware programs onto your computer or being scammed by cyber criminals, you should remove EasyHotspot right now.
Unfortunately, our researchers have found the uninstaller of this adware unreliable, which means that it may leave some leftovers behind. Therefore, after running this uninstaller through Control Panel, you need to take care of the leftovers manually. Please follow our guide below if you need assistance with these steps. Keep in mind that cleaning your system of this threat requires editing the Windows Registry, which can be a risky task if you are not an experienced computer user. Please only go for the manual leftover removal if you are confident about what you are doing. Otherwise, we recommend that you use a reliable anti-malware application that will also protect your system from future malware attacks.
Remove EasyHotspot from Windows
Windows 8/Windows 8.1/Windows 10
Press Win+Q and type in Uninstall a program. Press Enter.
Select the uninstaller and press Uninstall.
Windows Vista/Windows 7
Open the Start menu and go to Control Panel.
Click Uninstall a program.
Select the uninstaller and press Uninstall.
Windows XP
Tap Win+R and type in Control Panel. Press OK.
Click Add or Remove Programs.
Select the uninstaller and press Remove.
Leftover Removal
Press Win+R and type in regedit. Click OK.
Locate and remove these registry value names:
HKEY_LOCAL_MACHINE\SOFTWARE\Microsoft\Windows\CurrentVersion\RunOnce\EasyHotspot
HKEY_LOCAL_MACHINE\SOFTWARE\Wow6432Node\Microsoft\Windows\CurrentVersion\RunOnce\EasyHotspot (64-bit)
HKEY_LOCAL_MACHINE\SOFTWARE\Microsoft\Windows\CurrentVersion\Run\EasyHotspot
HKEY_LOCAL_MACHINE\SOFTWARE\Wow6432Node\Microsoft\Windows\CurrentVersion\Run\EasyHotspot (64-bit)
HKEY_LOCAL_MACHINE\SOFTWARE\Microsoft\Tracing\easyhotspot-installer_RASAPI32
HKEY_LOCAL_MACHINE\SOFTWARE\Microsoft\Tracing\easyhotspot-installer_RASMANCS
Exit the editor.
Restart your computer.
In non-techie terms:
EasyHotspot is a useless desktop application that claims to enable you to turn your computer into a WiFi hotspot, but, instead, it may simply show potentially harmful third-party commercials. These ads may expose you and your computer to cyber criminals. We advise you not to use or keep this adware application on your system as it may put your virtual security at risk. Unfortunately, this adware may come on board along with other malware infections; therefore, it is not enough for you to remove EasyHotspot alone. If you do not want to delete each and every infection separately by yourself, you can use an automated solution, such as a professional malware removal program.