Do you know what EasyEmailSuite Toolbar is?
If you ever happen to encounter a program that goes by the name of EasyEmailSuite Toolbar, make sure to avoid it at all times. We urge you to do so since this application is nothing more than yet another potentially unwanted program. Such classification has been made after a detailed analysis, which revealed quite a few invasive features. Having this suspicious application up and running on your PC, will make surfing the web a much more annoying and frustrating task, to put it lightly. What is even worse than that is the fact that this intrusive program could be the primary reason your operating system might be subjected to dubious and even potentially harmful web content. To learn more about the intricate inner workings of this potentially unwanted program, be sure to read this article. Besides such information, we also present a detailed removal guide that will help your delete EasyEmailSuite Toolbar in just a few simple steps.
Unfortunately, quite a few users download EasyEmailSuite Toolbar expecting it to be a useful tool. That is so because on its official websites it is advertised as a program that should help you manage your various email accounts using just this one application. While it sounds like a great tool, you must know that, in reality, this potentially unwanted program functions in an invasive manner. As soon as it gains full access to your operating system, it installs a suspicious browser extension without any warning whatsoever. This plug-in then triggers major changes within your web browser's default settings. The main modifications initiated by this dubious application are of your default home page, new tab page, and search engine. Due to such alterations, you will no longer be able to browse the web the way you like. That is so because you will be forced to start every single online session on a suspicious third-party web site instead of your default homepage. The same thing will happen to your new tab page; for as long as this potentially unwanted program will be active on your PC, you will be presented with a questionable site instead of a blank one. Additionally, you will have no choice but to use a suspicious third-party search engine for every online query. To regain your browser's default functionality, you must delete EasyEmailSuite Toolbar completely. Do so by following the detailed instructions that we present below.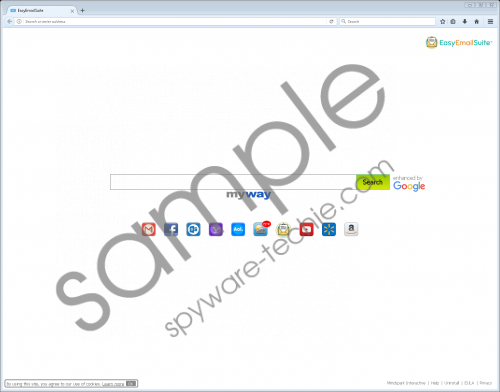 EasyEmailSuite Toolbar screenshot
Scroll down for full removal instructions
While the annoying functionality of EasyEmailSuite should be a reason enough to delete it, you must know that there is something much more alarming about it. Upon deeper analysis, our researchers have discovered that in some instances this potentially unwanted program could be the main reason your operating system might be subjected to devious online content. That could happen if you choose to use a suspicious third-party search engine because it could present you with modified results that might contain redirect links. It is a dangerous instance since you could be redirected to sites crafted by cyber crooks. You might end up on fake online shops, which are crafted for a single reason - to steal your credit card data. In other situations, you might encounter web pages infested with malicious software. Unfortunately, just entering such a site could be more than enough to infect your personal computer with some unknown malware. Even though search result hosting such dangerous redirect links do not occur often, the possibility of coming across one remains. It is best not to take any chances with EasyEmailSuite nad conduct its complete removal at the very same time that it is found up and running on your personal computer.
Delete EasyEmailSuite by following the detailed instructions that we provide below. Make sure to perform each step with your utmost attention since a single mistake could lead to an incomplete removal. If that happens, you might have to face undesirable outcomes. For example, leftovers of EasyEmailSuite could restore it without your knowledge. In other cases, those same traces might be just enough for the unwanted alterations within your browser's settings to remain in place. If you wish to be sure that every single bit of EasyEmailSuite has been terminated from your personal computer, we highly recommend double-checking your entire operating system for anything associated with the potentially unwanted program in question. Such analysis of your operating must be executed as soon as you are done with the instructions below.
How to remove EasyEmailSuite from your PC
Click the Windows button and select Control Panel.
Click Uninstall a program.
Select the unwanted program.
Click the Uninstall option.
How to remove leftovers of EasyEmailSuite
Open your File Explorer.
Delete a folder called ifbgbfdfdgfngigejacbmmkeklfahmka in the following folders:
a) C:\Users\(your username)\AppData\Local\Google\Chrome\User Data\Default\Extensions.
b) C:\Users\(your username)\AppData\Local\Google\Chrome\User Data\Default\Local Extension Settings.
c) C:\Users\(your username)\AppData\Local\Google\Chrome\User Data\Default\Sync Extension Settings.
Navigate to C:\Users\(your username)\AppData\Roaming\Mozilla\Firefox\Profiles\(unique Mozilla ID)\extensions.
Select a file called _krMembers_@www.easyemailsuite.com and then tap Delete on your keyboard.
Right-click your Recycle Bin and select Empty Recycle Bin.
In non-techie terms:
Malware experts working at our internal labs are well aware of the fact that some users might find manual removal too complicated. If you are one of those users, do not worry. Follow the alternative instructions that we present below; this way you will be able to delete EasyEmailSuite automatically.