Do you know what EasyCouponsAccess is?
EasyCouponsAccess is an extension that provides links to websites offering coupons as well as popular social media sites. While these links could seem useful, some users may find the application irritating as it might change default search engine, homepage, or new tab page with a particular search tool. You should also know that the add-on's presented search engine might redirect to a modified Yahoo version. The problem with it is that results displayed via a modified search engine could be influenced by the extension, for example, to serve advertisements from third-party partners. Because of its behavior, the add-on falls under the classification of potentially unwanted programs. You can learn more about it by reading the rest of this article. Plus, if you choose to erase EasyCouponsAccess and are in need of guidance, we can offer our removal guide available below.
The application comes from a company called SpringTech, Ltd. According to its developers, its primary function is to "Search and access popular coupons quick links instantly from your new tab page!" The description and the extensions installed can be found on easycouponsaccess.com. Also, for a while, the add-on was available at Chrome Web Store page, but at the moment of writing it looks like the application has been removed from it. Nonetheless, we believe there could be other distribution channels the potentially unwanted program's developers could use, for example, bundled software installers, redirects, and so on. Therefore, we recommend against visiting unreliable file-sharing websites or interacting with suspicious pop-ups if you do not want to receive tools like EasyCouponsAccess in the future.
It seems the add-on works on Internet Explorer, Mozilla Firefox, and Google Chrome. It might alter such browsers' preferences by changing the default homepage, search engine, or new tab page. Consequently, an affected browser may start loading the potentially unwanted program's website upon its launch, when creating a new tab or when searching the Internet. Also, EasyCouponsAccess should place a toolbar below a browser's address box. This toolbar might have links to popular social media web pages as well as websites offering coupons and content alike. If you want to have coupon sites where you could reach them fast, you could bookmark them instead of using the application's toolbar. Thus, if you do not like that the extension might encourage you to search the Internet with a modified tool that could show unreliable advertisements and wish to get rid of it, you have a way to remove it but keep its provided links.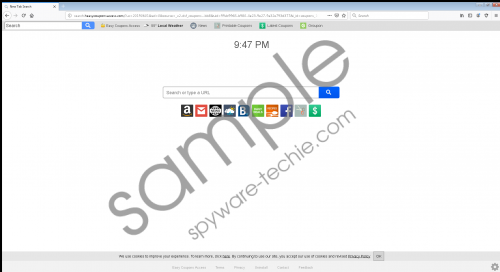 EasyCouponsAccess screenshot
Scroll down for full removal instructions
Users who wish to delete EasyCouponsAccess manually should follow the removal guide placed below. It will show how to get rid of the potentially unwanted program step by step. The other way to eliminate it is to perform a full system scan with a reputable antimalware tool of your choice. Once the scanning is over, you should be able to erase all detections, including EasyCouponsAccess at once.
Delete EasyCouponsAccess
Mozilla Firefox
Tap CTRL+SHIFT+A simultaneously.
Choose Extensions.
Locate an extension called EasyCouponsAccess.
Press Remove.
Restart your browser.
Google Chrome
Press ALT+F.
Pick More tools and select Extensions.
Search for the potentially unwanted program.
Press Remove and select Remove.
Relaunch the browser.
Internet Explorer
Open your computer's Start menu and select Control Panel if you have Win XP/Win Vista/Win 7.
Tap Windows Key+R, type Control Panel and press OK if you have Win 8 or Win 10.
Pick Uninstall a program/Add or Remove Programs.
Find the unwanted extension.
Select it and click Uninstall.
Exit Control Panel.
In non-techie terms:
EasyCouponsAccess is a potentially unwanted program or, in other words, a tool that might have undesirable qualities, which could make a user want to remove it. As explained in the main article, this browser extension might appear to be annoying as it might change browser preferences like your default search engine or homepage and there is a chance it could show unreliable advertisements from third parties. If you do not think you want to keep an add-on like EasyCouponsAccess on your browser, you should not waste any time with it. You can erase it manually, and the removal guide available above this paragraph can explain to you how. On the other hand, if you like using automatic features, you could get a trustworthy antimalware tool, scan your computer with it, and then erase the potentially unwanted program and other detected issues by pressing the provided deletion button. In case you have more questions about this extension or its removal, do not hesitate to leave us a message.