Do you know what Easy Gaming App is?
Do you want to play games online more efficiently? If you do, Easy Gaming App is not an extension you should install. It is promoted as a tool that, allegedly, can help Google Chrome users access online games and gaming platforms and also a useful web search facility from the new tab page. This kind of description paints a pretty picture, but the reality is that this PUP (potentially unwanted program) takes over the New Tab page of your browser to present you with a few links to third-party sites. Does that make it useful? You be the judge of that, but our researchers do not view it as a highly useful add-on. Since most users are likely to find the PUP just as useless, we have created a guide that shows how to remove Easy Gaming App. If you are not yet sure if you want to delete the extension, continue reading.
Easy Gaming App was created by Eightpoint Technologies, and while you might not be familiar with this company, our researchers have analyzed many PUPs created by it, including Weather Forecaster, Find My Nascar Lineup, My Flight Finder Tab, and EasyCouponsAccess. For the most part, these extensions are presented via the Chrome Web Store and unique download websites. Easy Gaming App can be found at chrome.google.com/webstore/detail/easy-gaming-app/hapangpoeddiaoblfidfnomfaahfpege and also easygaming.app. Note that even if you choose to install the PUP from the official website, you are still routed to the Chrome Web Store. Once you initiate the installation, you are informed that the PUP can read and change your data on sites, modify the new tab, read browsing history, and also manage apps. This is where some people stop and reject the extension. Obviously, if you use a third-party downloader/installer, you might not be informed about this, and you might also install other PUPs.
Once installed, Easy Gaming App is presented via the New Tab page in a form of a search engine. At the top, you can find a pseudo toolbar that presents links to gamefly.com, gamersgate.com, minecraft.net, and win.worldwinner.com. So, if you want to have these quick-access links in one place, you might find the extension useful. If you know how to bookmark websites for easy access, you will realize that the extension is pretty much useless. What about the search facility provided by it? This is where the real risks begin. If you interact with the search dialog box, you will have yourself redirected to Yahoo Search, but the results you see will not be normal. The PUP can modify them to ensure that you are exposed to sponsored links and ads. The creator of Easy Gaming App earns money by advertising third-party links, but it does that in a very sneaky manner, and we also cannot guarantee that it screens what it shows.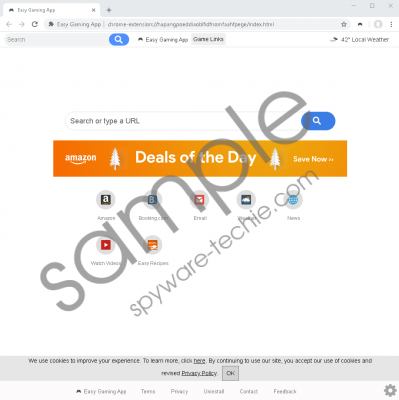 Easy Gaming App screenshot
Scroll down for full removal instructions
If you do not find an extension beneficial or trustworthy, you want to remove it without hesitation. So, do you want to delete Easy Gaming App? This PUP appears to be compatible with Google Chrome only, and eliminating extensions from this browser is an easy task to accomplish. The guide below shows how to do that as well as how to clear the browsing data. You want to clear it to get rid of cookies that the PUP uses to track information about you and your virtual behavior. Note that this information can be relayed to third parties, and so you really want to delete cookies. Another option is to use anti-malware software, and we recommend doing that if other PUPs or even malicious threats exist and if you want to provide better protection for your browsers and the entire operating system in the future.
Remove Easy Gaming App from Google Chrome
Launch the browser and tap keys Alt+F on the keyboard to open the Chrome menu.
Click More tools to expand the menu and then select Extensions.
Locate the undesirable extension and then click the Remove button.
Tap keys Alt+F again and then select Settings.
Scroll down, click Advanced, and move to the Privacy and security menu.
Click Clear browsing data and then move to the Advanced menu.
Select the time range and boxes and then click Clear data.
In non-techie terms:
Easy Gaming App might promise you great services, but it is just a potentially unwanted program that cannot meet the expectations of its users. All this extension can offer are a few links to third-party sites, and you can easily access them without the extension. If you want to access certain sites quicker, you can always bookmark them. On top of that, the search tool offered by the PUP cannot be trusted either, and so it is highly recommended that you delete Easy Gaming App from your Google Chrome web browser. You can do that manually using the instructions above, or you can install legitimate anti-malware software to have it deleted automatically. This is the method of removal we recommend if you are dealing with more than just one PUP and if you want to have your system protected more efficiently.