Do you know what Dualshot Ransomware is?
Dualshot Ransomware is a threat that encrypts files and marks them with the .dsec extensions, for example, panda.jpg.dsec. After a file gets encrypted it can no longer be opened because it becomes unreadable. The encryption process can be reversed but only with special decryption tools that might be impossible to find. The hackers behind the malicious application may offer the needed decryption tools in exchange for paying a ransom, but we recommend against it. That is because there are no guarantees that the cybercriminals will hold on to their end of the bargain. In other words, you could get scammed. If you do not want to take any chances, we advise finding another way to get your data back, for example, replacing it with backup copies. We also advise deleting Dualshot Ransomware either manually or with a reliable antimalware tool. To find out more about it, we invite you to read our full report.
Dualshot Ransomware could be spread through malicious email attachments, unsecured RDP (Remote Desktop Protocol) connections, harmful websites, suspicious ads, or pop-ups, and so on. Therefore, we advise being extra cautious with files that come from the Internet and take care of weaknesses like unsecured RDP connections if you want your system to be malware-free. Another thing that all specialists highly recommend is keeping a reliable antimalware tool that could guard your computer against various threats.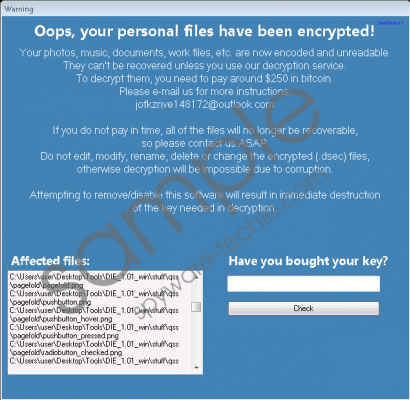 Dualshot Ransomware screenshot
Scroll down for full removal instructions
If Dualshot Ransomware slips in, it should encrypt various valuable files, such as pictures and documents. As said earlier the malware marks encrypted files with the .dsec extension and locks them with a strong encryption algorithm. You might not notice what is going on because the malicious application ought to work silently until it finishes encrypting all targeted files. As soon as the encryption process is over, the malware ought to restart your system and display a pop-up window called "Warning" on your screen. At this point, the threat could also create a copy of its launcher in the %LOCALAPPDATA% directory.
The malicious application's ransom note should state that you cannot decrypt your files unless you get special decryption tools from Dualshot Ransomware's creators. Also, the note might say that the tools are available only for a limited time and that you need to rush to contact the malicious application's creators if you want to learn how to pay ransom on time. As said earlier, we do not recommend paying it because there are no guarantees that you will get what is promised. In such a case, you could lose both the means to decrypt your files and your money.
If you decide not to risk, we recommend erasing Dualshot Ransomware. To get rid of it manually you could try to complete the steps in the removal guide that is available below. The task could still be challenging and if you find it too difficult or time-consuming, we advise getting a reputable antimalware tool that could eliminate Dualshot Ransomware.
Erase Dualshot Ransomware
Restart the computer in Safe Mode with Networking (scroll lower to see the instructions that could help you complete this step).
Press Windows Key+E.
Navigate to these paths:
%USERPROFILE%\Desktop
%USERPROFILE%\Downloads
%TEMP%
Find data belonging to the malware (it could be any suspicious recently downloaded files), right-click the threat's files, and select Delete.
Go to: %LOCALAPPDATA%
Find a malicious executable file that could be named DSNWIN1829.exe or similarly, right-click it, and press Delete.
Close File Explorer.
Scan your computer with a legitimate antimalware tool to check if you managed to erase the ransomware completely.
Erase the antimalware tool's identified items.
Restart your computer as usual.
In non-techie terms:
Dualshot Ransomware can enter a system without any permission and encrypt your most valuable files without you noticing what is going on. After the encryption process it should restart an infected computer and display a ransom note on the screen as soon as it restarts. The malware's warning window ought to say that you can get your files decrypted if you pay hackers 250 US dollars. To urge users to make the payment, cybercriminals added a statement on the ransom note that says the needed decryption tools are available only for a limited time. What you should know is that there are no guarantees that hackers will hold on to their end of the bargain too. To put it simply, paying ransom is risky as your money could be lost in vain. If you fear being scammed, we advise not to put up with any demands. Also, we advise deleting Dualshot Ransomware, which you can do manually or with a chosen antimalware tool.