Do you know what DropIntoDeals is?
DropIntoDeals is a browser extension that is promoted as "your secret weapon for online savings"; however, this weapon may easily misfire. Our malware researchers have tested this application in our internal lab and we are here to share with you what they have found out. In reality, this extension is an ad-supported program, which means that its sole purpose is to fill your computer screen with advertisements since the creators get paid based on your clicks. In other words, this adware is nothing more than a money generator for the people behind it. They might also be schemers who you may support with your clicks. But that is only one side of the story. What if you get redirected to unsafe websites? What if you get scammed by landing on such a website? Have you ever looked at advertisements from this angle? Due to the potential risk you might be exposed to, we suggest that you remove DropIntoDeals from your PC as soon as you can.
We do not think that a lot of users find the official, promotional website at dropintodeals.com, unless they know this address and type it in the address bar of their browsers. But even if they find it, that website is a real disappointment. As a matter of fact, this is not the first time we have seen such behavior that when you click on the download button, actually, no download starts. Instead, you will be told that currently you cannot download this extension. For us, that definitely screams, "This application is suspicious; stay away." However, this is not the only way you can get this useless extension onto your computer.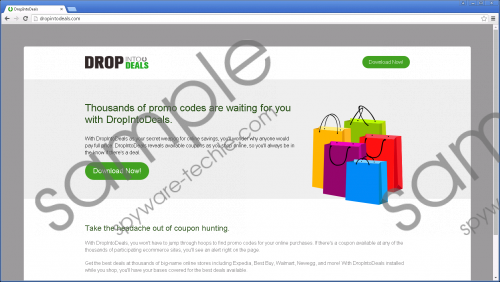 DropIntoDeals screenshot
Scroll down for full removal instructions
DropIntoDeals can also be found in freeware bundles packed with a couple of other malware infections. Downloading and installing such a package may easily challenge the security of your Windows operating system. These infected bundles can most commonly contain adware apps, potentially unwanted programs, and browser hijackers. If this whole lot gets installed, chances are that very soon your browsing activity is as good as sabotaged by third-party pop-up ads, coupons, and best offers; and your browsers may also be changed to offer you a hijacked home page and search engine. All these infections may introduce you to unreliable third-party content. The longer you keep this adware and the related threats on-board, the harder it may get to get rid of them all and the more damage they can do. Even if you delete DropIntoDeals right now, you may still need to scan your computer to make sure there is no other threat endangering your virtual security.
Although this adware affects the three major browsers, including Mozilla Firefox, Internet Explorer, and Google Chrome as well, our researchers have noticed that the latest versions of Chrome already block it. That is definitely yet another sign that you are better of removing DropIntoDeals from your computers. This adware can gather information about your online activities and share this with third parties in order for them to be able to send tailored ads to your screen. Have you noticed ads that actually "read your mind"? That is why it is possible. They can virtually figure out what your preferences are, which websites you like to visit, what kind of ads you tend to click on, and much more. No matter how tempting these ads may be, you should not click on them if you do not want to be taken to potentially harmful websites. The only chance for you to stop these ads from exposing you to such possibilities is to delete DropIntoDeals as soon as possible.
So here is what you can do to manually sort out this adware situation. It is not enough to uninstall DropIntoDeals via Control Panel. It is also important to remove the undesirable browser extensions as well. Please follow our guide below if you need assistance with the necessary steps. Since most of malware infections come in bundles that are promoted on suspicious shareware and torrent websites, we advise you to carefully select the websites you visit. If you "accidentally" end up on a questionable site, do not ever click on any link, button, or ad there; simply close the tab. If you want a powerful solution against infections, we advise you to install an antimalware program that can protect you from all known threats, including the dangers of landing on malicious websites.
Remove DropIntoDeals from Windows
Windows 8, Windows 8.1, and Windows 10
Press Win+I and go to Control Panel.
Select Uninstall a program.
Click on the program and click Uninstall.
Windows Vista and Windows 7
Open the Start menu and access Control Panel.
Select Uninstall a program.
Click on the program and click Uninstall.
Windows XP
Press Start and navigate to Control Panel.
Open Add or Remove Programs.
Click on the program and click Remove.
Remove DropIntoDeals from your browsers
Mozilla Firefox
Press Alt+T and select Add-ons.
In the left panel, select Extensions.
Click on the extension and click Remove.
Google Chrome
Tap Alt+F and select Settings.
In the left panel, select Extensions.
Click on the extension and click on the recycle bin icon on the right.
Click Remove in the pop-up.
Internet Explorer
Press Alt+T and go to Manage add-ons.
Select Toolbars and Extensions.
Click on the add-on and remove it from the list.
Click Close.
In non-techie terms:
DropIntoDeals is a worthless browser extension that affects all three of the major browsers. In fact, it is an adware program that litters your screen with third-party advertisements. Not only are these ads annoying, but they may also be dangerous to click on. You might be redirected to infected or fake websites and that could get more malware onto your computer or worse. This adware may also come on-board with a number of other infections; therefore, it is important that you act ASAP. We recommend that you remove DropIntoDeals from your computer. If you are not comfortable with the manual way or you would like to protect your PC from future attacks, we advise you to download and install a trustworthy malware removal tool.