Do you know what dream_dealer@aol.com Ransomware is?
Hopefully, you have a backup of your files stored somewhere safe because if dream_dealer@aol.com Ransomware has infiltrated your system, they are already encrypted and rendered inaccessible. Our researchers say that this dangerous malware infection is the new version of a previous hit called Globeimposter Ransomware and Globe Ransomware. Although these attackers offer you proof that they can decrypt your files by decrypting one small file of your choice, why would you believe cyber criminals who just attacked your computer and took your files hostage? What is the guarantee that they will keep their promise? And, of course, why would you finance further online crimes? Unfortunately, there seems to be no way yet to restore your files without the decryption key stored on a secret remote server by these crooks. Still, we recommend that you remove dream_dealer@aol.com Ransomware from your PC immediately.
This ransomware program can crawl onto your system without you realizing it until it is too late to act or to save your files from encryption. For example, it can show up in your inbox or spam folder as a spam e-mail with an attachment. Of course, it will not say "I am a dangerous spam, please run the attachment to see why." Obviously, the cyber crooks of today are much more sophisticated than their predecessors 10 or 20 years ago. This is why it is possible that even if you are not an inexperienced computer user, you may want to open this mail and its attachment. It is plainly so because this spam uses psychological tricks to persuade you that it is in your best interest to do so.
This is basically done by using local authorities or widely known company representatives as the sender of the spam as well as intriguing subject matters. This spam may claim that you gave the wrong banking details while booking a flight or hotel room, or that you have not settled an invoice. This subject is always something that people would want to open even if they feel that it cannot concern them. Please note that you cannot delete dream_dealer@aol.com Ransomware once you click to view the attached file without losing your files to encryption.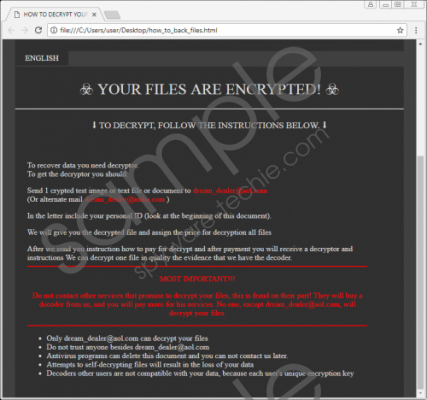 dream_dealer@aol.com Ransomware screenshot
Scroll down for full removal instructions
In addition to becoming more careful around your mails, it is also important that you keep your browsers and Flash and Java drivers up-to-date. Cyber crooks can set up malicious websites with so-called Exploit Kits (e.g., RIG) and infect you the moment you load this site. By the time you would realize that you are on a suspicious website you did not even want to see and close the tab, your files could be encrypted already. Again, when you get to the point that you realize that you must remove dream_dealer@aol.com Ransomware, it is already too late.
Although this ransomware program adds a ".dream" extension to the original extension of the encrypted files, it is more like a nightmare if you consider that you could easily lose all your important files in this vicious attack. Once your files have been encrypted, this infection creates a ransom note .html file on your desktop called "how_to_back_files.html." This file contains all the information you need to know to be able to recover your encrypted files. This files tells you to send an image or text file (to dream_dealer@aol.com) that is small and unimportant so that your attackers can prove that they can decrypt your files. When you get a reply message with the decrypted file, you will also have further details about the payment. It is most likely that you have to pay in Bitcoins, but we cannot tell you the amount for now. We would like to warn you that these criminals may not send you anything after you pay. We believe that it is essential that you remove dream_dealer@aol.com Ransomware from your system right away.
We have included our guide below this report so that you can take action manually if you want. But, if you are looking for a method or tool to keep your computer defended against all kinds of threats, we advise you to use a reliable anti-malware program like SpyHunter. Please remember that keeping all your programs up-to-date is also essential since this can stop cyber criminals from accessing your system and your files exploiting outdated software security bugs.
Remove dream_dealer@aol.com Ransomware from Windows
Tap Win+R and enter regedit. Press OK.
Locate the malicious value names in the following registry keys. Memorize the location in the value data field. Delete the value names in these keys:
HKCU\Software\Microsoft\Windows\CurrentVersion\RunOnce\BrowserUpdateCheck
HKCU\Software\Microsoft\Windows\CurrentVersion\RunOnce\CertificatesCheck
Close your Registry Editor.
Tap Win+E to display the File Explorer.
Find and remove the malicious executable.
Scan your download folders for suspicious executable files and delete them all (%USERPROFILE%\Desktop, %USERPROFILE%\Downloads, and %TEMP%)
Bin the ransom note ("how_to_back_files.html") from your desktop.
Empty the Recycle Bin and reboot your machine.
In non-techie terms:
If dream_dealer@aol.com Ransomware manages to slither onto your computer, you can be sure it will not spare your personal files. This dangerous malware infection can encrypt all your important files and demand a ransom fee in exchange for decryption. You should take this attack seriously because you can easily lose your files if you do not have a backup. We never encourage anyone to pay the fee because one, it is always risky, two, it is like supporting cybercrime. Of course, it is always your call and you need to know if it is worth the risk for you. We advise you strongly to remove dream_dealer@aol.com Ransomware from your computer. If you want to make sure that you are protected in your virtual world, we suggest that you install a professional anti-malware program ASAP.