Do you know what DownloaderPlus is?
If you consider DownloaderPlus to be a useful application, you are completely wrong. This download manager is not only useless, but also dangerous, and this is why we recommend removing it as soon as possible. Most users realize that this potentially unwanted program is unreliable as soon as they install it on their operating systems. Other users continue believing the illusion, or they just ignore this PUP because they do not know what to do with it. Our research team has tested this suspicious app in our Spyware-Techie.com internal lab, and we can tell you how dangerous this program actually is. If you are curious about this and you want to learn how to delete DownloaderPlus, you should continue reading.
Many users believe that DownloaderPlus is reliable because this is how this program is introduced via downloaderplus.com. Would you install a program if it was introduced as a useless application that was created only to showcase third-party ads? Of course you would not, which is exactly why attractive information is used instead. Even if you are introduced to DownloaderPlus via a third-party source, you will be made believe that this PUP is the best download manager you could ever install. It that were the case, we would not be discussing the removal of DownloaderPlus. In reality, this program does not work, and its main function is to introduce third-party offers. Unfortunately, this kind of activity can be dangerous.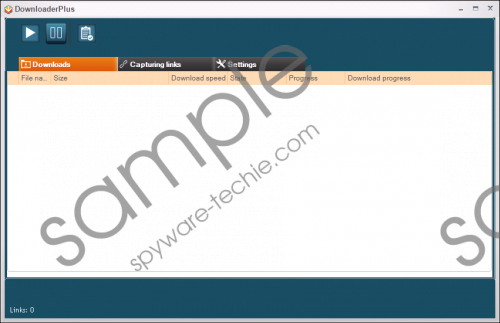 DownloaderPlus screenshot
Scroll down for full removal instructions
Whether you see pop-ups, banner promotion, or advertisements in new browser windows, you need to think twice before you interact with any of them. If you make rash decisions, you might face malware and devious scams, and, if you act cautiously, you might evade serious security issues. Even third-party malware could access your operating system via unreliable DownloaderPlus-related ads, which is why we are so adamant about the removal of this potentially unwanted program. If you continue seeing ads after you delete DownloaderPlus, it is possible that the representation of these ads is the responsibility of third-party adware and PUPs. You can find out if you need to remove third-party malware with the help of a simple malware scanner.
Do you want to keep encountering suspicious ads? Are you okay with unfamiliar parties tracking your activity with the help of HTTP cookies? Does it not bother you that third-party infections could attack your operating system with the help of DownloaderPlus? If this situation is not acceptable to you, you must clean your PC right away. First, remove DownloaderPlus using the instructions below. Next, delete third-party malware using an authentic malware remover. Finally, implement authentic security software to ensure full-time protection.
Delete DownloaderPlus from Windows
Delete from Windows 10
Enter Control Panel into the search box on the Taskbar and open the menu.
Move to Programs and click Uninstall a program.
Right-click the program you want to remove and click Uninstall.
Delete from Windows 8/Windows 7/Windows Vista
Tap Win+R to launch RUN, type Control Panel, and click OK.
Under Programs click Uninstall a program.
Right-click the app you wish to remove from your PC and click Uninstall.
Delete from Windows XP
Click the Start button on the Taskbar and open the Control Panel menu.
Double-click Add or Remove Program and find DownloaderPlus.
Select the uninstaller and click Remove.
In non-techie terms:
Yes, DownloaderPlus looks like a harmless program. Unfortunately, its services are useless, and it can open security backdoors by injecting unpredictable third-party ads. In our opinion, removing DownloaderPlus is what needs to be done, and you can eliminate this PUP in two ways. You can delete it manually, or you can use an automated malware remover. Needless to say, the second option is far better if other threats are active. Note that if you ignore third-party malware and security vulnerabilities, you could become a victim of unreliable parties before you know it.