Do you know what Download Keeper is?
You must recognize Download Keeper as an advertisement-supported program, because it has been developed to help online advertisers display ads on the sites you visit. Download Keeper itself does not create or display advertisements; however, it activates connections to remote adware servers which are used to present offers. If you do not delete Download Keeper in time, the application will keep presenting ads whenever you browse the web. This is not only irritating but also dangerous, which is why our malware analysts working in our internal lab recommend immediate adware removal.
Our malware researchers have analyzed the advertisement-supported program and have discovered that it could be related to the promotion of various virtual scams related to the installation of unreliable software and clandestine data collection. For example, you may share personal contact information thinking that you are applying for some beneficial service. Unfortunately, Download Keeper is related to virtual security risks – not benefits. In fact, if this adware is active, it is highly likely that your operating system is infected with other dangerous infections already. Just like CouponTime, SaleBuilder, and other clandestine adware that you must remove, Download Keeper is distributed using software bundles. This means that it is installed with other applications. Are you sure that these applications are not dangerous? It is possible that the additionally packaged applications must be deleted as well, which is why it is necessary to research them.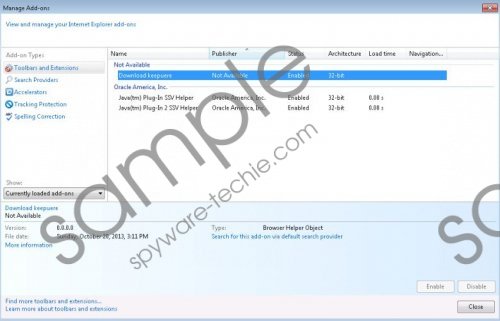 Download Keeper screenshot
Scroll down for full removal instructions
Download Keeper is a program which may be presented using different name variations. Whether the program is installed as Download keepuere or Downloadi keeppEr, you must delete it from your PC as soon as possible. You can install automatic malware removal software, and this is the option we recommend. If you employ reliable software, the disturbing adware and the associated infections will be removed in no time. If you want to remove Download Keeper manually, you first need to follow the removal guides below. You also need to delete adware leftovers and other infections.
Delete Download Keeper from Windows
Delete from Windows 8:
Right-click on the screen of the Metro UI menu.
Select All apps and open the Control Panel.
Go to Uninstall a program and right-click the undesirable one.
Select Uninstall to remove Download Keeper.
Delete from Windows Vista and Windows 7:
Open the Start menu from the Task Bar and select Control Panel.
Move to Uninstall a program and locate the undesirable Download Keeper.
Right-click the program you want to delete and select Uninstall.
Delete from Windows XP:
Move to the left of the Task Bar and click the Start button to open a menu.
Select Control Panel and double-click Add or Remove Programs.
Remove the undesirable software.
In non-techie terms:
Download Keeper is a browser extension which may promise great benefits. Unfortunately, this ad-supported application is more likely to cause security issues instead. We recommend immediate Download Keeper removal, and the guides above can help you. Unfortunately, adware is often installed with other infections, and these may require more attention. If you are not experienced and you cannot delete these programs manually, you should install automatic malware removal software.