Do you know what Doppler Weather Radar is?
If you have downloaded Doppler Weather Radar because you wanted an easy access to a weather forecast from your web browser, you might have been disappointed by the end product. The application (on Internet Explorer)/extension (on Mozilla Firefox) is one of those allegedly beneficial tools that, in reality, hide hidden agenda. Sure, it promises access to weather alerts, national weather, and pollen reports, and it offers a free search service (via Yahoo Search), but it is not a trustworthy tool. In fact, we classify it as a potentially unwanted program, and our stance is that it is best to remove Doppler Weather Radar. If you do not agree with us, or you want to understand the PUP better, we suggest you continue reading and then make a decision. Note that the comments section is open, and if you have questions about the program or deleting it, we are here to answer them.
You can download Doppler Weather Radar from dopplerweatherradar.co. The installer is compatible with Internet Explorer and Mozilla Firefox browsers, and it is installed as an application for IE users and as an extension for Firefox users. That means that the removal of the PUP changes depending on which browser you use personally. Of course, the suspicious PUP could also be spread via installers that are controlled by third parties. In this case, it could be bundled with other questionable extensions and programs too. Since malware could be spread along with the suspicious app/extension, we advise that you inspect your operating system. All you have to do is install a legitimate malware scanner (you can even use a free one) and let it do its job. If any threats that require removal exist, you will be warned about it momentarily. Needless to say, all threats must be deleted, and if serious threats exist, you might forget about the PUP itself. You should not do that.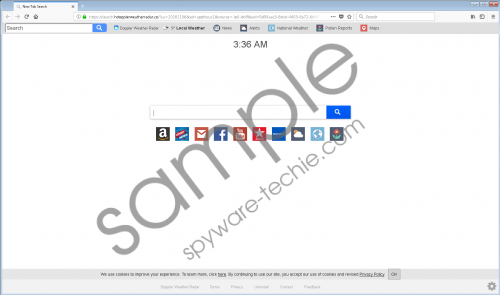 Doppler Weather Radar screenshot
Scroll down for full removal instructions
Polarity Technologies Ltd. is the name that the creator of Doppler Weather Radar is hiding behind. It is also the name linked to Search.hthecalendar.co and many other similar PUPs. This search engine is very similar to Search.hdopplerweatherradar.co, and that is the search engine introduced to the users of Doppler Weather Radar. Once you install the PUP, it can modify the New Tab and, possibly, even the homepage to represent the search engine. Of course, at the top of the interface, you can find links to sites that are related to weather alerts and pollen reports, but the main focus is drawn to the search engine. As the official installer informs, Yahoo Search is used, but, unfortunately, the results are modified, and that means that ads and unrelated links could be shown to you. Interacting with these could be perilous, which is why we do not recommend it.
If you want a trustworthy weather report, find a website you prefer and add it to the bookmarks bar for easy access. If you want to use Yahoo Search, set it as your default search provider or homepage. You definitely do not need Doppler Weather Radar for any of this. If you decide that you want to remove this potentially unwanted program, you have to decide how you want to do it. You can follow the guides below, but if other threats exist, you need to consider the option of using anti-malware software. It could protect your operating system and browsers afterwards too!
Remove Doppler Weather Radar
Mozilla Firefox
Open the browser and tap Ctrl+Shift+A.
In the Add-ons Manager open the Extensions menu.
Remove an extension called Weather.
Internet Explorer
Open Control Panel (via the Start menu or, if you use Windows 10, the search on the Taskbar).
Move to the Uninstall a program menu (or Add or Remove Programs on Windows XP).
Uninstall/Remove the application called Doppler Weather Radar.
In non-techie terms:
Doppler Weather Radar is meant to be this useful and reliable program, but it is more suspicious than beneficial. While it offers links to websites that are weather-related, it does not actually offer unique weather-related services. Also, it seems like the main feature of this PUP is a search service, and since all searches are redirected to Yahoo Search, the app/extension is kind of useless. Whether you decide to delete Doppler Weather Radar because it does serve you in a beneficial manner or you do not think it is trustworthy, you can follow the instructions above. Of course, if other infections are active, you will need to deal with them separately, or you could install an anti-malware program to automatically delete all threats (including PUPs), as well as to secure the operating system.