Do you know what Donald Trampo Ransomware is?
Ransomware applications are very popular these days because they are one of the ways that cyber criminals make huge, illegal profits from unsuspecting users. Our researchers have discovered one more program of this category, which is called Donald Trampo Ransomware. You must know that it currently roams the web so being aware of its existence is crucial. If you are not familiar with malicious programs of this classification, you need to know that they are capable of encrypting large amounts of data without any authorization or notification. It should be quite obvious that having a program like that active on your PC just for a short time could have devastating outcomes. To learn more about the inner workings of this malware, make sure to read the rest of our report. In addition to such information, we also provide a few virtual security tips along with a comprehensive removal guide that will help you delete Donald Trampo Ransomware without encountering any problems.
The basic overall functionality of Donald Trampo Ransomware does not differ all that much from other ransomware applications that are active nowadays. After a successful intrusion, this malicious program checks your hard drive for its contents. Once that is done the encryption takes place. Our researchers have discovered that this program does not affect data essential for your operating system to function. As it turns out, it only affects files located in the %USERPROFILE% folder and its subfolders. Since it uses a powerful cipher, manual decryption procedure is an impossible task. It is also important to note that the encryption is completely silent; therefore, only users with advanced computer knowledge might be able to catch and stop this it in action. After all of that is done, each file affected by this ransomware application will be tagged with a SN-1350860109483654-webmafia@asia.com_donald@trampo.info extension. What is a bit unusual is the fact that a warning message that informs users about what has happened is dropped not on the desktop but in an obscure subfolder of %APPDATA% directory. This might be an indication that this dubious program is still in its developmental phase. The message comes in the form of a .bmp file and does not provide any precise instructions or demands. It should be more than obvious why the complete removal of Donald Trampo Ransomware is essential. Execute it in the easiest way possible by simply follow the instructions below.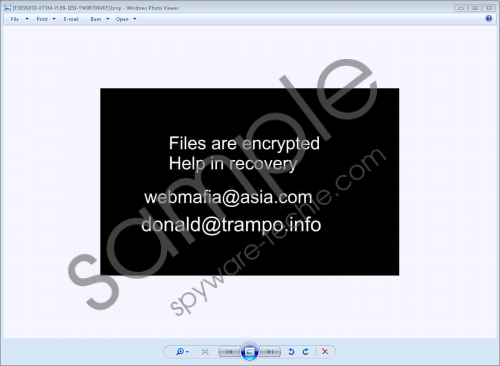 Donald Trampo Ransomware screenshot
Scroll down for full removal instructions
You must have a fully secure operating system at all times if you wish to avoid programs such as Donald Trampo Ransomware. First and foremost, we advise you to obtain and install a professional antimalware tool if you do not have one already. Such a tool is the most important part of your virtual security since it can detect and delete any virtual threat in a completely automated manner. Alongside such a tool we highly advise you to take precautionary steps to avoid dangers while surfing the web. We highly advise you to refrain from all e-mail attachments that come your way from unknown third-parties. This is important because developers of this ransomware are known to use spam e-mail campaigns to distribute their devious programs. Furthermore, you should avoid all questionable third-party download websites because they are infamous for being the primary source of bundled installers, which are notoriously used by malware developers to spread their questionable programs. Finally, we urge every user to always learn about the program they want to have before actually doing so. This is important because cyber crooks tend to use manipulative marketing techniques to lure naive Internet users into downloading and installing their dubious applications without fully understanding how it works. These seemingly simple precautionary steps along with a reliable antimalware tool will make your operating system virtually unbreakable.
Under no circumstances delay the removal of Donald Trampo Ransomware as keeping it active will definitely have disastrous outcomes. Be sure to follow the instructions that we provide below with care since a single mistake could result in an incomplete removal. If this happens, you might have to face undesirable consequences. For instance, traces of Donald Trampo Ransomware could be enough for it to continue its devious functionality. In other situations, those same leftovers could trigger a silent restoration of this malware. To avoid all of that, you need to simply recheck your PC for any traces related to Donald Trampo Ransomware once you are done with the instructions below.
How to remove Donald Trampo Ransomware from your PC
Open your File Explorer.
Navigate to C:\Users\[your username]\Downloads.
Right-click a malicious .exe file and select Delete. Note that the name of this file is randomized.
Navigate to C:\Users\[your username]\AppData\Roaming\Microsoft\Windows\Start Menu\Programs\Startup.
Right-click a malicious .exe file and select Delete. Note that the name of this file is randomized.
Right-click your Recycle Bin and select Empty Recycle Bin.
In non-techie terms:
If you are user that finds manual removal too complicated, do not worry. Below we present an alternative removal guide, crafted by malware experts at Spyware-Techie.com, which will allow you to delete Donald Trampo Ransomware in an automatic manner.