Do you know what Doko Toolbar is?
Doko Toolbar is a browser extension that is directly related to doko-search.com. It basically means that if you are infected with a browser hijacker that sets your home page to doko-search.com, Doko Toolbar is very likely to be added to your browser as well. It should be pointed out that Doko Toolbar is not a real malware infection, because most of the time users install this extension on your computers willingly (albeit unwittingly). Nevertheless, you are strongly advised to remove Doko Toolbar from your computer as soon as possible, restoring previous browser settings.
The reason why such toolbars should not be allowed to remain on your browser is because Doko Toolbar and similar add-ons are not exactly safe. They have various vulnerabilities that allow malicious third parties exploiting them and utilizing them for malware distribution. For example, Doko Toolbar comes with a flash advertisement that is embedded next to its custom search box by default. Consequently, if a malevolent third party manages to embed its own corrupted link into that flash, you would be exposed to a dangerous content that might lead to malware infection.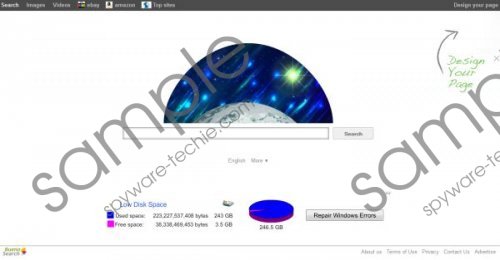 Doko Toolbar screenshot
Scroll down for full removal instructions
Doko Toolbar is known to be compatible with Mozilla Firefox and Internet Explorer web browsers. Also, be aware that doko-search.com may also be called buenosearch.com or only-search.com. Therefore, Doko Toolbar might get installed on your computer from either website. Not to mention that these websites are known to be bundled with Delta Toolbar and other freeware applications and browser optimizers (like CleanerPro, for example). Hence, it is important that you read each step during freeware installation, in order to avoid installation unwanted applications.
Luckily, Doko Toolbar comes with an entry in Windows Control Panel, so you can easily remove it manually. However, that does not mean that buy terminating one extension you will get rid of all the potentially unwanted programs from your computer. Having Doko Toolbar on your computer clearly means that there are other potentially dangerous applications in your system (and you may also have your home page changed), and in order to detect them you should perform a full system scan with SpyHunter free scanner. Invest in a licensed computer safeguard program to remove all the unwanted applications and protect your PC from malware infections.
Uninstall Doko Toolbar
Windows 8
Move mouse cursor to the bottom right of the screen.
Select Settings and go to Control Panel.
Click Uninstall a program and remove Doko Toolbar.
Windows Vista & Windows 7
Open Start menu and select Control Panel.
Go to Uninstall a program and remove Doko Toolbar.
Windows XP
Open Start menu and click Control Panel.
Select Add or remove program and uninstall Doko Toolbar.
If you have any questions about how to remove Doko Toolbar or doko-search.com from your browser, do leave a comment below.
In non-techie terms:
Doko Toolbar is a browser extension that appears at the top of your browser when you install a lot of freeware applications. You need to remove Doko Toolbar from your computer to prevent potentially dangerous threats from entering the system.
Aliases: DokoToolbar.