Do you know what DogeCrypt Ransomware is?
DogeCrypt Ransomware is a regular computer infection that falls under the ransomware category. Users often get taken by surprise when ransomware slips into their systems, but it is still a major security threat that shouldn't be overlooked. If you were infected with DogeCrypt Ransomware, you have to understand that in some cases, you may have to start working on your file library from scratch. There is no public decryption tool available, and you have to remove DogeCrypt Ransomware at once, without even bothering contacting the criminals responsible for this infection.
We believe that DogeCrypt Ransomware employs the usual ransomware distribution measures. The most common method of ransomware distribution is spam email and phishing messages. If ransomware targets a corporation rather than an individual computer, it may first launch a phishing campaign that allows it to gain administrative access to the target system, and then, it downloads the main payload that could be a ransomware infection. It all points to one thing: individual users and corporate employees have to be careful and attentive when they receive emails from unknown parties. What's more, sometimes it might seem like a regular email that you get on a daily basis, but if it comes with an urgent tone, and it tells you to check out the link or the attachment no matter what, you have to stop and ask yourself whether this is legit.
During our research, our team has found that DogeCrypt Ransomware is not the first infection of its kind. It seems to have been developed from an older ransomware infection called Desucrypt Ransomware. Thus, it means that the main programming script could be similar between the two, but the people behind DogeCrypt Ransomware have enhanced or tweaked some things to make the ransomware work the way they want.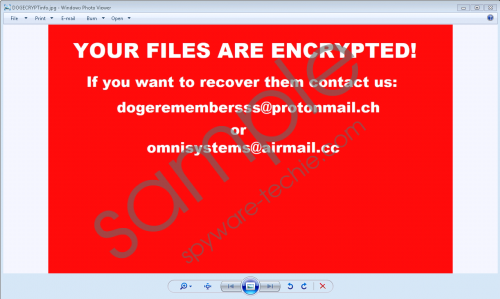 DogeCrypt Ransomware screenshot
Scroll down for full removal instructions
All in all, the program behaves like your regular ransomware application. Based on what we know, DogeCrypt Ransomware encrypts all important picture and document formats, so you can be sure that most of your files will be encrypted once this infection enters the system. Also, once it launches the encryption, it also changes the desktop wallpaper to a red picture containing some instructions. The instructions say:
YOUR FILES ARE ENRYPTED!
If you want to recover them contact us:
dogermembersss@protonmail.ch
or
omnisystems@airmail.cc
As you can see, there are no further instructions that would tell you how much you are expected to pay for the decryption tool. It also means that the criminals could ask for as much as they want, because there is no basis for the ransom fee. However, it should be more than obvious that you should not contact these people. Paying the ransom is not an option, mostly because there is no guarantee that the criminals behind this infection would issue the decryption key in the first place. They might as well just collect the payment and scram. Or they may not reply at all.
So, is there anything else you could do? If you have a file backup, restoring your files shouldn't be a problem. If you regularly back up your documents on an external hard drive or a cloud drive, you can just remove DogeCrypt Ransomware along with the encrypted files and transfer all the healthy copies back into your computer.
Even if you do not back up your files consciously, there could be files saved in your inbox, your mobile device, or even a cloud drive that was set up on your computer automatically. The point is that there usually is a way to restore at least part of your files, so you shouldn't panic. If you feel lost, you should also consider addressing a local professional.
As for DogeCrypt Ransomware, the infection doesn't drop any additional files, so you only need to remove the file that launched the infection. While you're at it, you should also scan the system with the SpyHunter free scanner. That might not be your top priority at the moment, but there might be more potentially harmful applications installed, and so, you need to make sure that your computer is safe and clean again. Do all it takes to terminate malware, and make sure to explore all the file recovery options.
How to Remove DogeCrypt Ransomware
Delete the latest files from Desktop.
Delete the latest files from the Downloads folder.
Press Win+R and type %TEMP%. Click OK.
Delete the latest files from the directory.
Run a full system scan with a licensed antispyware tool.
In non-techie terms:
DogeCrypt Ransomware is a malicious computer infection. It will cut down to the chase immediately when it launches the file encryption. Don't let it take over your life. Remove DogeCrypt Ransomware this infection at once and acquire a powerful security application that will delete any remaining malicious files, at the same time protecting your system from other intruders. As for your files, check out what options you have, and don't feel discouraged if you need to start from zero.