Do you know what DislikeOnFb is?
DislikeOnFb is a browser extension that is classified as adware. The application will monitor your online activity for monetary purposes. It will also try to convince you that it can provide you with some useful function, which does not exist in the first place. Keeping this extension on your browser could result in particular computer security issues. You should not overlook that because your computer's security should be your utmost priority. Please take your time to read through this description and remove DislikeOnFb from your system as soon as possible. You never know what could happen if this application remains on your PC.
Probably every Facebook user has wanted to thumb down a post or two at least once, but there is no such thing as a "Dislike" button on the site. This browser extension comes forth and says that finally you can have the function if you install DislikeOnFb. The extension can be added to your browser via the official website at dislikeonfb.com. At the time of this writing, the extension is compatible with Google Chrome and Mozilla Firefox. However, there is a good chance that one of these days it will work on Internet Explorer as well. This could be because it is targeting the newest Microsoft Edge web browser, so that the extension does not work on Internet Explorer at the moment.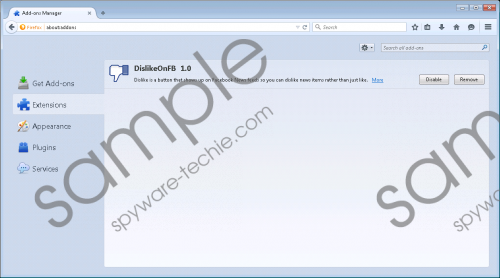 DislikeOnFb screenshot
Scroll down for full removal instructions
Either way, the official distribution source is not the only route used by this extension to reach you. The application might also come bundled with freeware. If that is the case, it means that you downloaded DislikeOnFb along with some program that you wanted to have on your computer. Users often download software packages without realizing it, especially if they download programs from third-party websites. Please be attentive during freeware installation, as you may be offered the option to deselect additional applications. Also, make sure you always go for the custom installation, because the default installation always installs all the programs included in the installer.
The problem we have with DislikeOnFb is that this browser extension does not create the promised Dislike button on your Facebook page. Rather than that, it monitors what websites you visit, gathering the information on your web browsing habits. Once it has enough information collected, DislikeOnFb processes the data and starts displaying commercial advertisements. This is where the nature of an adware program comes forth.
The ads themselves are not extremely malicious, but you have to remember that the adware applications never check what kind of links they promote. The ad content is outsourced from a third-party advertising server, and this creates a security hole that can be easily exploited by cyber criminals. If they want to embed their own content in the DislikeOnFb ads, they might as well do so. Consequently, if you click a corrupted ad, you could be redirected to an online marketing website, or some other page that would collect your data for monetary purposes or infect you with adware. In the worst case, you could also get infected with malware.
Do not take your chances. Remove DislikeOnFb right now, and then protect your PC from similar applications. You can do that by acquiring a legitimate antispyware program and staying away from unfamiliar websites. Should you need any further assistance, please let us know by leaving a comment.
How to Delete DislikeOnFb
Mozilla Firefox
Press Ctrl+Shift+A and the Add-ons manager tab will open.
Disable and remove DislikeOnFb from Extensions.
Restart your browser for the changes to take effect.
Google Chrome
Press Alt+F and select More tools.
Open Extensions and remove DislikeOnFb.
In non-techie terms:
DislikeOnFb is a suspicious adware program that is supposed to provide you with some additional Facebook function. However, our tests have proven otherwise. This application only slows down your browser and exposes you to unreliable content via third-party pop-up ads. You should delete DislikeOnFb from your browser and scan your computer for other unwanted applications, because such programs seldom travel alone.