Do you know what Disk Antivirus Professional is?
If you cannot use the computer normally because of the suspicious scans and pop-up messages which are displayed by Disk Antivirus Professional, do not wait any longer and remove it from the system as soon as you can. You can delete this bogus security tool using SpyHunter, which will scan the system and remove every single component of the infection.
Disk Antivirus Professional is installed without the user's approval and it makes a lot of changes in the system. It alters the Registry by creating new registry entries which can disable some programs so that you cannot run your executables and remove the malicious program. Moreover, Disk Antivirus Professional virus tampers with your browsers to prevent you from accessing specific websites. All of this is done in order to make you think that your PC is severely infected with dangerous computer infections which can be remove only with its non-existent full version.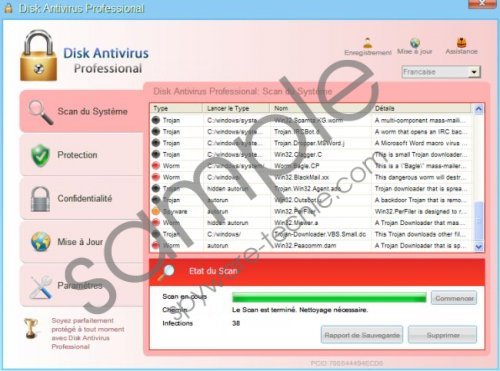 Disk Antivirus Professional screenshot
Scroll down for full removal instructions
Disk Antivirus Professional imitates the scans of your system and keeps on displaying fake security alerts claiming that your PC is at risk. The truth is that the only danger to your computer is Disk Antivirus Professional virus itself as the infections presented in the fake scanner are not present within the system. Here are some threats which you may find in the scan result window:
Zlob.PornAdvertiser.ba
Win32.Rbot.fm
Infostealer.Banker.E
Spyware.KnownBadSites
For example, Infostealer.Banker.E is an existent Trojan infection which can steal sensitive information, which is done by displaying a fake bank online page where the user has to enter his/her personal information. If you are familiar with this or any other threat presented by the fake tool, do not think that your PC is infected with the viruses mentioned. The only threat which you should remove right now is Disk Antivirus Professional, so do no pay attention to its attempts to manipulate you.
As the bogus program cannot provide actual information related to your PC, you should ignore its fake warnings, some of which are presented below:
Disk Antivirus Warning
Your PC is still infected with dangerous viruses. Activate antivirus protection to prevent data loss and avoid the theft of your credit card details.

Warning!
Application cannot be executed. The file GoogleUpdate.exe infected.
Please activate your antivirus software.

Disk Antivirus Professional Warning
Intercepting programs that may compromise your privacy and harm your system have been detected on your PC.
Click here to remove them immediately with Disk Antivirus Professional
As you can see, the examples provided push the user into activating the rogue software. If you do not want to lose your money, you should remove Disk Antivirus Professional virus and use a spyware removal tool which will safeguard the computer and your privacy all the times.
Pay no attention to the malfunctions of the system and the infection's attempt to prevent you from accessing the Internet because all of this is schemed to trick you into giving your money up. Moreover, you cannot trust Disk Antivirus Professional because it is a clone of such fake AVs as System Progressive Protection, Live Security Platinum, Smart Fortress 2012, and others.
To facilitate the remove of the unwanted program, apply the following activation code which will disable annoying pop-ups and other operations of the malware software:
AA39754E-715219CE
Now install our spyware removal tool which will easily delete Disk Antivirus Professional and provide you with the ultimate protection. Do not delay the removal of the harmful program in order to minimize the risk of getting the system infected with new malware, which may be able to cause irreparable damage to your computer.
In non-techie terms:
Disk Antivirus Professional is a fake anti-malware program which seeks to deceive you into buying its fake full version. The threat gets to the system without your permissions and makes unauthorized changes.
Aliases: DiskAntivirusProfessional, Disk Antivirus Professional virus.