Do you know what Dishwasher Ransomware is?
Dishwasher Ransomware is a malicious computer infection. It intends to encrypt your personal files and keep them hostage until you transfer the ransom fee. Unfortunately, this program doesn't seem to have a way to communicate with its command and control center, so it's probably still haven't been fully developed. Either way, you must remove Dishwasher Ransomware from your computer today, even if there is no public decryption key available. While you are at it, you should also find out more about ransomware distribution and how to prevent such threats from entering your system.
For the most part, ransomware programs like Dishwasher Ransomware manager to slither into the victim's computer because the victim opens the door. Of course, no one opens the door being fully aware of that. We have to remember that ransomware tricks users into opening malicious files. The spam emails and other socially engineered messages tend to create a sense of urgency. They tell users that they have to interact with the files they have received, and if they don't, they will face undesirable consequences. Needless to say, dealing with ransomware infection consequences is far worse any imaginary problems spam emails could tell you about.
Hence, to avoid Dishwasher Ransomware and other similar infections, you need to be careful about the files you download. Sometimes, fake documents can really look like something important, so if you want to make sure that the files are legitimate, you can scan them with a security tool. If your security tool is updated, you will be able to screen dangerous files with no difficulty.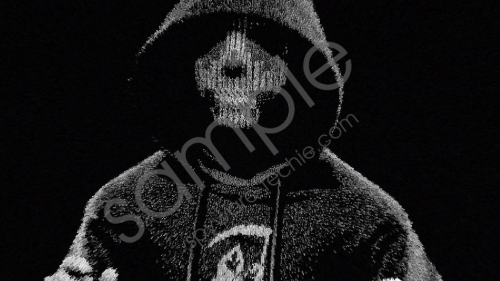 Dishwasher Ransomware screenshot
Scroll down for full removal instructions
On the other hand, what are we supposed to do if Dishwasher Ransomware enters our system? Well, then we are forced to sit and wait through the encryption. Because this is exactly what this program does, and there is no way to revert the process once it is initiated.
Our research team suggests that Dishwasher Ransomware targets Documents, Pictures, Favorites, Music, and Desktop folders in the %USERPROFILE% directory. These are the folders where users usually tend to save most of their personal files. If you saved your data someplace else, the chances are that Dishwasher Ransomware will not touch them. However, the files in the mentioned folders will definitely get locked up, and all the affected files will receive a ".cleaned" extension. Needless to say, there is nothing "clean" about encrypted files, it's just that whoever has created Dishwasher Ransomware; they have a pretty twisted sense of humor.
So, when the encryption is complete, we should see a ransom note. A ransom note should tell us how to contact the criminals behind the infection and transfer them the ransom fee. However, Dishwasher Ransomware does not display a ransom note. At least the sample that we worked with didn't have one. This is one of the reasons that allowed us to assume the program is still in development. Instead of displaying or dropping a ransom note, Dishwasher Ransomware changes your background. You will see a strange dark figure on your desktop, and this image can be quite daunting, but don't worry – it's only an image.
Instead of worrying over a desktop background, you should look for ways to restore your files. You need to focus on that once you remove Dishwasher Ransomware from your system. Luckily, it is rather easy to terminate this ransomware because we know what files it drops on your system. You can find the manual removal instructions at the bottom of this description.
A lot of users do not feel comfortable about manual malware removal, so if you are one of them, you can try removing Dishwasher Ransomware with an automated antispyware tool. Not to mention that with a security tool of your choice, you will also be able to safeguard your system against similar threats in the future.
As for your files, if you have copies of your data saved someplace else, it shouldn't be a problem to restore them. If you do not have copies elsewhere, you should probably address a technician for other file recovery options, as it is highly unlikely that a public decryption tool for Dishwasher Ransomware will ever be developed. After all, it is not a high-profile infection.
How to Delete Dishwasher Ransomware
Remove the most recent files from Desktop.
Delete the most recent files from the Downloads folder.
Press Win+R and enter %TEMP%. Press OK.
Delete the most recent files, and the dump.keys & bg.jpg files from the directory.
Use SpyHunter to run a full system scan.
In non-techie terms:
Dishwasher Ransomware is a dangerous computer infection. This program encrypts your files. It means that it locks your files and you cannot open them anymore. Unfortunately, this program is underdeveloped, and it doesn't give you any chance to restore your files through "official" channels. Also, a public decryption tool might not become available any time soon. Hence, you need to remove Dishwasher Ransomware from your system today, and then look for other ways to get your files back.