Do you know what Discovery App is?
Discovery App is a generic adware application that usually gets installed on the affected computer accidentally. It spams users with annoying commercial advertisements that slow down the main web browser. What's more, if the application gets exploited by cyber criminals, the adware infection could easily result in a malware infection. Then you would have to spend a lot of time and money to get rid of all the malicious programs. You can save yourself a lot of trouble if you remove Discovery App today. Please remember that serious computer security issues usually start with something insignificant.
Our security researchers have seen something like Discovery App many times before. It is a direct clone of Wander Burst, High Stairs, Blazer Deals, Gravity Space, Deals Avenue, and many other similar applications. All the adware programs from this group come forth offering some kind of a useful function. Or at least it should provide you with one, but it is highly unlikely that Discovery App, or any other similar program for that matter, would ever do anything good. The program only wants you to think it can improve your web browsing experience while in fact the application makes money by redirecting you to third-party websites.
The redirection takes place when you click Discovery App pop-ups. These ads and pop-ups are generated according to your likes and preferences. The application can connect to the internet without your permission to upload all the data it has collected on you. Discovery App tracks your online habits with tracking cookies, and soon enough it can have a rather extensive online profile. With that, the application "knows" what kind of content it should embed into its ads so that there would be a high possibility of your clicking them.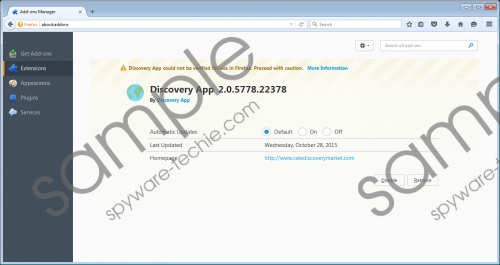 Discovery App screenshot
Scroll down for full removal instructions
Needless to say, you are strongly discouraged from clicking on the pop-ups. For one, there is no guarantee that you will really be given the service you are promised, and second, some of the pop-ups could be used for malware distribution by the malevolent third parties. This happens because Discovery App does not review the third-party content that gets embedded in its ads. Virtually, almost anyone can make use of the program and its ads for content distribution. This makes Discovery App very vulnerable to third-party exploitation, and, consequently, as long as you keep the app on your system, your computer will be terribly exposed to potential threats.
Luckily, it is not complicated to get rid of Discovery App. You can uninstall the program via Control Panel, and it should be enough to delete the extension from your default browser. However, you should take note of the fact that Discovery App seldom gets installed on the target system on its own. The fact that you have this program on your PC also means that you are likely to have multiple other applications that are associated with severe computer security issues.
To find out whether your computer is safe or not, scan the system with a security tool of your choice. If any additional threats are found, delete them all automatically. Finally, get yourself a powerful computer security application that would stop the likes of Discovery App from entering your PC in the future.
How to Remove Discovery App
Windows 10, Windows 8.1 & Windows 8
Press Win+R and the Run command prompt will open.
Type "control panel" into the open box and click OK.
Go to Uninstall a program and remove Discovery App.
Windows Vista & Windows 7
Open the Start menu and click Control Panel.
Select Uninstall a program and remove Discovery App.
Windows XP
Click the Start menu button and navigate to Control Panel.
Open Add or remove programs and uninstall Discovery App.
In non-techie terms:
Discovery App is a potentially dangerous program that makes all those pop-up ads appear on your screen. It is definitely annoying because you have to close those ads all the time, but it may also be dangerous because the ads may show some malicious content. You should NEVER click on the Discovery App ads because you could open some corrupted website. If you do not remove Discovery App right now, you could get infected with malware, and then it might be too late to save your computer.