Do you know what Discover My Ancestry is?
Discover My Ancestry happens to be a potentially unwanted program that functions as a browser extension. It is compatible only with the Chrome browser, so if you use other browsers, you may not encounter this extension. However, it does not mean that an entire list of other potentially unwanted programs cannot enter your computer. The truth is that when you remove Discover My Ancestry, you will probably have to deal with a few other unnecessary applications. Hence, the best way to terminate all the unwanted programs would be investing in a legitimate antispyware tool.
To be quite honest, we have seen many other extensions that looked and behaved like Discover My Ancestry. In a sense, this program does not offer anything new, but it comes forth saying that it can provide you with some useful service. It is also not a dangerous infection that could destroy your computer. In fact, a malicious infection would not be available out in the open, while this extension can be downloaded directly at least from two sources. This means that Discover My Ancestry is very far from a severe computer security threat. Rather than being a genuine threat, it can function as a medium between your system and a real intruder.
If we were to open the official homepage for this extension via discoveryourancestry.com, we would not find anything extraordinary. In fact, the layout of the page is very simple, and it does not offer you a lot of information. It simply says that with this extension added to your browser, you should be able to "research family ancestry, build a family tree and look up name meanings." Not to mention that the application is supposed to be "100% free & easy to use." The tool can also be found in the Chrome Web Store, which also strengthens the impression that the extension is a useful tool.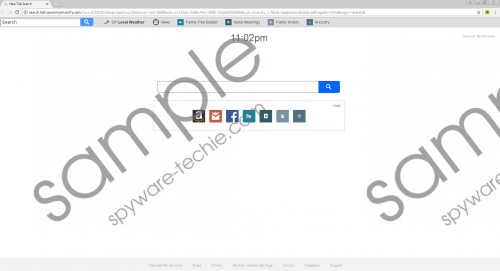 Discover My Ancestry screenshot
Scroll down for full removal instructions
However, if you were to add Discover My Ancestry to your browser, you would see a pop-up that informs you about the things this application can do. It will say that the program can "read and change all your data on the websites you visit, replace the page you see when opening a new tab, and manage your apps, extension, and themes." That is actually a big list of permissions you give some third-party application when you add it to your browser. And it is also possible that you add it without realizing it.
You probably figured it out already, but it is clear that the official sources are not the only distribution routes taken by this tool. Discover My Ancestry can come bundled with freeware, or you could accidentally add it to your browser after clicking some unfamiliar pop-up. The point is that this extension cannot enter your browser unless you allow it to. Hence, you have to be careful when you browse the web to avoid such programs, especially if you do not want to have them on-board.
In a sense, Discover My Ancestry could look quite bothersome because it can change your homepage address and new tab settings. If you are not used to such extensions, you may think that you were attacked by a browser hijacker. The extension will also redirect your search queries through query.discovermyancestry.com to Yahoo! Search, and it will display modified search results. The search results should be adjusted to your likes and preferences, but that is not a good thing. It could indirectly lead you to unfamiliar and harmful websites, so you should see to it that you avoid these redirections.
It is obvious that the best way to avoid these things is to remove Discover My Ancestry from your computer. It is rather easy to do, as you can simply delete the extension via your browser's settings. However, computer security experts also recommend resetting your browser to default because there might be more unwanted extensions added.
You can always scan your system with a legitimate antispyware tool to see which programs must be terminated. What's more, by investing in a reliable security tool, you would most definitely protect your computer from many other threats. And if you have more questions about computer security, you can always leave us a comment.
How to Reset My Browser
Internet Explorer
Press Alt+T and open Internet options.
Click the Advanced tab and press Reset.
Select Delete personal settings and click Reset.
Press Close.
Firefox
Press Alt+H and click Troubleshooting information.
Click Refresh Firefox at the top right of the new tab.
When a confirmation box appears, click Refresh Firefox again.
Press Finish.
Chrome
Press Alt+F and go to Settings.
Click Advanced at the bottom of the page.
Scroll down and click Reset.
Press Reset to complete.
In non-techie terms:
Discover My Ancestry is a browser extension that exhibits a variety of undesirable behavioral patterns. Users who care about their system security should see to it that they delete this extension from their browsers at once. While Discover My Ancestry is not a malicious infection, the app may be added to your browser accidentally, and thus you need to make sure that all the programs you have on your computer were installed with your permission.