Do you know what DiscountApp is?
DiscountApp is nothing more than an adware application that needs to be removed in order to maintain a clean and secure system. Unsuspecting users might be lured into installing it by the dubious marketing strategies used by the publishers of this dubious software. You are promised to be displayed useful coupons and advertisements with lowest prices from various online stores. Sadly, these offers are useless, and you will certainly not save money by using DiscountApp. What it will certainly do – disrupt surfing the web; thus, it will become not a pleasurable experience to put it mildly. The removal of DiscountApp is a must, if you wish to regain full use of your browser and keep your system secure from any other infections entering your operating system.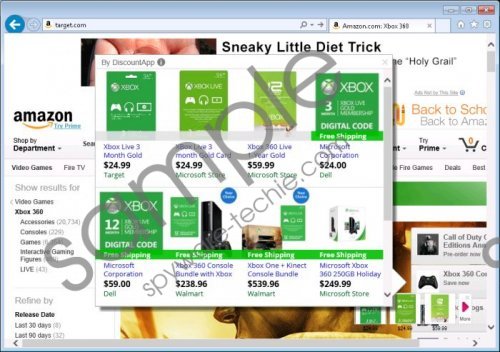 DiscountApp screenshot
Scroll down for full removal instructions
Our research team at Spyware-Techie.com has revealed that DiscountApp is usually distributed via bundled installers. Most of these installers are acquired from shady third-party hosting websites. If you tend to download freeware applications, you should be extra careful while installing any of them. Always choose the advanced installation method as it provides maximum information about the setup. You should be able to disable the installation of any third-party application that is not in your desire to use. The best way to avoid getting your system infected in this manner is to download software from official websites only. If you want to try out any new program make sure that you acquire it from the official website. Furthermore, you should check the legitimacy of the company that produced the application.
A soon as DiscountApp enters your system you will be presented with various coupons, adverts, and possibly annoying pop-ups. That is possible because DiscountApp installs browser extensions to all the major browsers on the market (Google Chrome, Internet Explorer, and Mozilla Firefox). The installation of these extensions takes place without your knowledge. Thus, you might not even notice that extensions were added. The potentially malicious extensions are in constant connection to some adware servers. Usually such servers provide users with dubious commercial adverts and pop-ups. You might encounter a pop-up that may be urging to update your Flash player. It has to be noted that usually Flash player is updated automatically. In most cases, the fake update pop-ups tend to mimic the design of a well-known software installer that is the reason why unsuspecting users allow the update to take place. Most of the fake updates are implemented with some malware. The exposure to such virtual threats should be enough to convince you to remove DiscountApp immediately.
Remove DiscountApp using the provided guide below. But keep in mind that some traces of the infection might remain on your system. Therefore, you are advised to recheck your computer manually for any potentially malicious files or folders. If you doubt whether you will be able to do that, it is advisable to use a professional antimalware tool for removal proposes.
How to remove DiscountApp from your PC
Remove from Windows 7 and Windows Vista
Tap the Windows key+R on your keyboard.
Then type Control Panel into the text box and click OK.
Select Uninstall a program.
Now select DiscountApp and click Uninstall.
Remove from Windows 8
Tap the Windows key+Q on your keyboard.
Then type Control Panel into the search box.
Tap Enter and select Uninstall a program.
Locate DiscountApp and double-click it to remove it.
Remove from Windows XP
Click the Start button and select Control Panel.
Then select Add or Remove Programs.
Finally, select and remove DiscountApp.
In non-techie terms:
It is important to realize that a seemingly harmless adware application like DiscountApp could be the cause of various other internet-based infections entering your system easily. Virtual threats are getting more complex each day. That is why you are advised to implement a trustworthy antimalware tool. Such tools have a constantly updated database meaning that any new infection can be identified instantly. Follow the instructions below in order to download a professional antimalware program.