Do you know what Diet Interactive is?
If you need advice on losing weight or proper diet, we do not recommend that you install Diet Interactive. Unfortunately, it is quite possible that you did not even want to install this useless application and yet it is there on your computer. After careful testing in our internal lab, our researchers categorized this infection as an ad-supported program, i.e., adware. You need to know that this program may cause system security issues by showing you potentially unsafe third-party ads, which can serve as gateways to malicious websites. Another bit of bad news is that this adware can come on board with other infections as well. So you may be facing a more complex security issue than you may think at first sight. That is why we believe that you should not just delete Diet Interactive alone if you want to protect your PC, but you also need to tackle all other possible threats as well. Obviously, you would not be in this shoe now if you had proper protection installed. Please read our full report to learn why this infection means a risk source and how you could safeguard your system from such invaders.
This adware is actually quite suspicious right from the start. Even its own official website may get blocked by anti-malware software, which does not sound too promising. The reason behind this is simple: The installer of this program, DietInteractive_Setup.exe, promoted on this webpage contains common malware infections, such as MyPcBackup and Yoursearching.com. So, practically, if you run this official installer, you let a few nasty surprises on board as well. These programs are mainly adware apps, browser hijackers, and potentially unwanted applications, too. All of these infections may be able to introduce you to unsafe third-party content. So whenever you go surfing the web, your experience may be disrupted by constant advertising, which is not only annoying but it could also present you with exposure to cyber criminals. We would not hesitate to remove Diet Interactive only knowing this; however, there is more to this adware unfortunately.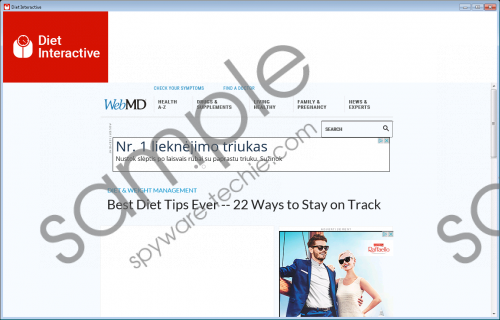 Diet Interactive screenshot
Scroll down for full removal instructions
It is possible that a browser hijacker has found its way to your computer previously and you run a web search through a questionable search engine promoted by this hijacker. You need to know that in such cases you should never trust the search results because they may be altered and thus contain unreliable ads and links. This is how it could be possible that you clicked on such content and that dropped this adware onto your system. Another possibility is that you click on download offers. But you might also install this worthless application through a free software bundle. No matter how this adware actually sneaked onto your computer, you should see that you need to be very careful with search engines and clicking on content, such as pop-up ads and banner ads as well. If you want to make your PC a safe virtual realm, you should remove Diet Interactive and all other threats right away.
This software uses its own GUI (Graphical User Interface) to load a promoted website, webmd.com, which is actually a medical site. However, this application does not seem to function as a browser so you cannot do too much. After installation, this adware launches your default browser and loads interest6.valuedinformation.com/numbers/?t=5&c1=UAOCD%3A%3A page. Since this program may promote other affiliated sites as well, you need to be careful with clicking on any content related to this adware. One single click is enough to be redirected to a malicious website if you happen to click on the wrong ad. Since apart from potentially harming your computer this application has no apparent function, we recommend that you remove it immediately.
Of course, after listing you the possible dangers we will not let you go without effective solutions. If you want to eliminate this adware yourself, we can offer you our guide below this article. In fact, this software has a well-working uninstaller that does not seem to leave any leftovers. So you just need to locate this uninstaller through Control Panel and activate it. But, if you are looking for an automated solution that could provide proper protection for your PC at all times from all existing malware infections, we suggest that you use a reliable anti-malware program that will take care of all your security-related issues with great efficiency.
Remove Diet Interactive from Windows
Windows 8/Windows 8.1/Windows 10
Tap Win+I and choose Control Panel.
Pick Uninstall a program.
Click on the application and click Uninstall.
Windows Vista/Windows 7
Tap Win+R and enter Control Panel. Click OK.
Open Uninstall a program.
Click on the application and click Uninstall.
Windows XP
Click Start and go to Control Panel.
Select Add or Remove Programs.
Click on the application and click Remove.
In non-techie terms:
Diet Interactive has not much to do with helping you lose weight; in fact, it has more to do with showing you potentially unsafe third-party advertisements on your screen. This desktop program has been labeled as an adware program due to its real function. Unfortunately, the presence of this adware can also indicate that your operating system is facing an attack by a few more malware applications. Therefore, we suggest that you remove Diet Interactive and lose all other potentially harmful programs as well. If you do not want to manually take care of all this, we advise you to think about downloading and installing a reliable malware removal program.