Do you know what DestrozaVirusUsb is?
DestrozaVirusUsb is one of those potentially unwanted programs that do not perform the functions they boast of. It is no use to keep this application on your system because DestrozaVirusUsb does not work properly. What's more, it is not possible to remove DestrozaVirusUsb via Control Panel, but it does not mean that there is no way to get rid of this application. You should run a full system scan with the SpyHunter free scanner and then delete all the files associated with this application. The point is that by getting rid of this program, you would ensure your system remains protected from harm.
This program is targeted at the Spanish-speaking users because DestrozaVirusUsb's interface is entirely in Spanish. The program is widely available for download from third-party software sharing websites like Softonic. At first, it might seem that there is nothing suspicious about DestrozaVirusUsb because the program is presented as a legitimate tool that has been developed to protect the USB memory cards and MP3 players from Trojans and viruses. The promotional message says that DestrozaVirusUsb is very easy to use, whether you install it on your computer or your USB drive. The program runs a full system scan automatically, and it informs you at once if you are infected with a dangerous virus.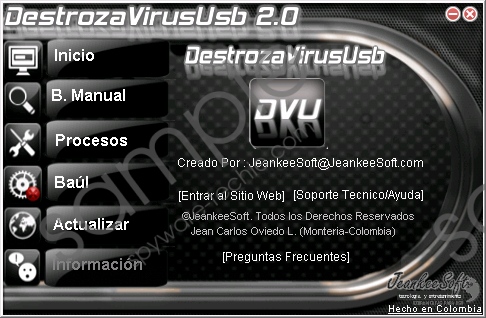 DestrozaVirusUsb screenshot
Scroll down for full removal instructions
However, when it comes to the real deal, DestrozaVirusUsb could barely deliver. The program itself does not work properly, and it cannot provide you with any useful protection from malware. Even so, DestrozaVirusUsb still exhibits some features of annoying and intrusive application because when you try to exit the program, it automatically tries to load several web pages. The pages themselves, however, are dead and all your browser opens is a blank page. It is highly questionable whether DestrozaVirusUsb can provide you with anything useful, so you should not wait any longer.
Since it is not possible to remove DestrozaVirusUsb from Control Panel, you might need to find all the files manually and delete them one by one. Needless to say, it is a very tedious practice, and it is also very likely that you could miss some files, especially if you are not an experienced computer user. Therefore, once again, we would like to emphasize the importance of a reliable computer security tool.
Although DestrozaVirusUsb is not a malicious infection (after all, you install this program yourself), if you do not want to keep this application on your computer anymore, you should get yourself a reliable security application that would help you delete DestrozaVirusUsb for good.
How to Remove DestrozaVirusUsb
Open your browser.
Go to http://www.spyware-techie.com/download-sph
Click Run on the download dialog box.
Install SpyHunter and run a full system scan.
In non-techie terms:
DestrozaVirusUsb is a potentially unwanted program that may not live up to its promises. What's more, the program could prove to be annoying and sometimes even dangerous. If it was not your intention to install the application on your PC, you should remove DestrozaVirusUsb from the system as soon as possible. For an alternative software removal method, please refer to the secondary set of instructions below this description.