Do you know what Desktops Alert is?
Desktops Alert is somewhat of a deceptive program that our researchers have deemed as a potentially unwanted program. As such, you ought to remove it, because it does not offer anything of value. Its developers target inexperienced PC users as they rarely give thought online security. Desktops Alert is presented as an application that will provide you with various promotional links. However, in order to achieve this, this program collects sensitive information about you. Putting sensitive information in the hands of unknown entities does not seem like a wise decision. Therefore, it is best to deny these entities the means of tracking you by deleting this program.
Increasingly, we are seeing shady programs being developed for particular locales and Desktops Alert is a perfect example of this. It has been developed by an unknown software developer most likely based in Turkey. Its developers have set up a website for this program at Geldinmi.com, which features its standalone installer that anyone can easily download. This website and this program's installer are in the Turkish language, so obviously, it has been tailored for the Turkish market. Nevertheless, the information found on Geldinmi.com suggests that Desktops Alert can be promoted on Turkish as well as foreign websites. In addition, this program is known to be bundled with other software and these bundles are primarily featured on Turkish software distributing websites. Desktops Alert's means of dissemination are rather deceptive, because software bundles are usually made to hide additional content. Now that we know how this program is distributed, let us discuss its functions.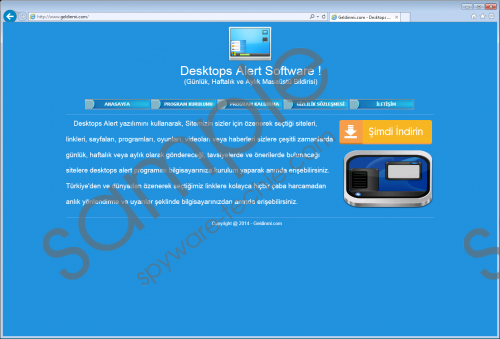 Desktops Alert screenshot
Scroll down for full removal instructions
As previously mentioned, Desktops Alert should present you with promotional links every few days, weeks or even months, so do not expect consistency. On the other hand it will constantly keep track of your movements on the Internet and collect information regarding your search queries and browsing history. It seems that this program was set to gather too much information needed to present the so-called useful links. The information Desktops Alert collects is way too personal as it may include email addresses, approximate locations, names, usernames, gender, social network profiles, and so on. It is quite possible that the gathered information will be shared and even sold to advertisers. We want to warn you that ads coming from shady sources are bound to be unreliable and misleading, so you should not trust them.
Another issue that needs to be discussed is that Desktops Alert cannot be uninstall via Control Panel. This is one of the reasons why Desktops Alert is regarded as potentially unwanted. Perhaps it is due to the incompetence on the part on the developers or it was their initial intention to obstruct the removal process as much as possible. Nevertheless, the developers include a removal guide on their website. However, since most users get this program from sources other than its dedicated website, they will not be aware of its removal method.
For this reason, we have composed removal instructions found at the end of this article. As you can see, Desktops Alert has no real purpose other than to collect information about you. Its alleged purpose of promoting websites based on your browsing habits is pointless and a security concern, because this program has no mechanism that filters web traffic. So, we recommend that you remove Desktops Alert as soon as the opportunity arises.
How to remove Desktops Alert
Right-click on the Taskbar.
Go to Start Task Manager.
Click Processes and locate a process called desktops.exe.
Right-click on this process and select End Process.
Close the Task Manager.
Then, simultaneously tap Windows Key+E.
Type %HomeDrive%\Desktops Alert in the address bar.
Select and right-click on all files located in the folder and Delete them.
In non-techie terms:
Desktops Alert is a potentially unwanted program with no real purpose other than subjecting you to links to promoted websites based on information collected about you. It is said that Desktops Alert will open links every few days, weeks, or even months and show you relevant websites. However, it collects sensitive information about you to do this and we have learned that it might be shared with various third parties. So do not hesitate and remove this useless application from your computer.