Do you know what Desktop Recipe is?
Desktop Recipe is yet another adware program that uses devious marketing strategies to trick naïve Internet users into downloading and installing a program that is, in fact, utterly useless. If you have noticed numerous third-party ads and annoying pop-ups it is a strong indication that this adware program is up and fully running on your operating system. It has to be noted that on its official website this infection is advertised as a great tool if you are looking for various recopies; since it should provide them right within our web browser. It goes without saying that such statements sound great; unfortunately, in reality this ad-supported does nothing like that – the only thing that it is capable of is causing major disturbances every single time you browse the web. Do not hesitate to remove Desktop Recipe since it holds no beneficial values whatsoever. Use the removal guide that we provide below to achieve this task.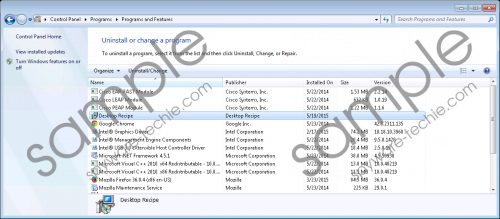 Desktop Recipe screenshot
Scroll down for full removal instructions
It is important to note that even though it is possible to download Desktop Recipe from its official website it has been found out that in quite a few cases this adware comes as a part of a software bundle. If you are a security conscious user and wish to avoid such instance you must take a few preventative steps. Your best bet to keep your operating system safe and secure at all times is to install a reliable antimalware tool that provides overall security at all times. Additionally you need to stay away from various third-party download websites since they are the primary source of bundled installers. Last, but not least, make sure to learn about the application that you wish to install before even downloading it. Google about it as much as possible since not only Desktop Recipe is known to use misleading advertising techniques to trick users.
Desktop Recipe functions similarly to adware programs such as Celebrity Alert, News Alert, and Finance Alert. Just like these counterparts Desktop Recipe will almost instantly start a background system service that is usually known as DesktopRecipeService.exe. If you suspect this adware being active on your PC, you are advised to check if such service is active via the Task Manager for confirmation. This invasive service is mostly used to contact with numerous adware servers to present you with ads and annoying pop-ups every single time you decide to browse the web. All of this unwanted third-party web content will make browsing the web a frustrating and annoying experience, to say the least. This is caused by the tons of ads and pop-ups that you will need to close down to navigate the web at every single browsing session. If you wish to avoid such instance, make sure to conduct a thorough removal of Desktop Recipe as soon as it is located active on your operating system.
The removal procedure of Desktop Recipe requires your utmost attention since a single mistake could mean that the adware program in question was not removed entirely. This is quite alarming since it is known that even a few leftover files or registry entries could be used by other Internet-based infections to enter your PC in an easy way. Your best bet to avoid such instance is by conducting the removal of Desktop Recipe with a professional antimalware tool.
How to remove Desktop Recipe from your operating system
Windows Vista and Windows 7
Tap the Windows key on your keyboard.

Select Control Panel and click Uninstall a program.
Right-click Desktop Recipe and select Uninstall.
Windows XP
Click Start.
Select Control Panel.
Click Add or Remove Programs.
Remove the unwanted application.
Windows 8
Move the mouse pointer to the lower-left corner of your desktop.
Right-click and then select Control Panel.
Click Uninstall a program.
Select the unwanted program and click the Uninstall button.
In non-techie terms:
Some users could lack computer knowledge meaning that they might find manual removal too complicated. If you are such a user do not worry because we provide an alternative removal guide which will help you delete this adware program in an automatic way.