Do you know what Descargar Musica Gratis is?
Descargar Musica Gratis is an online music player that is promoted by dmgsoftware.org. The application is also available on other free software websites. It is a desktop application which is categorized as a potentially unwanted program (PUP) because it arrives at the computer bundled with adware, which is one of the reasons why you may like to remove Descargar Musica Gratis from the PC.
The player is published by Descargar Musica Gratis Company, and the version that you are likely to install on the PC is version 3.7.4.0. The program enables you to search for different songs and save your search hits for later access. You can choose the format of the song and consult the specialist online if necessary. Moreover, Descargar Musica Gratis suggests acquiring a Pro Account, which has a particular fee.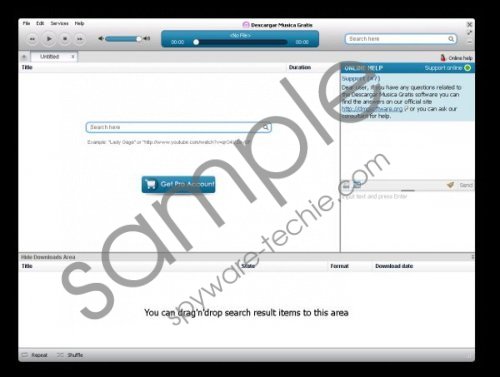 Descargar Musica Gratis screenshot
Scroll down for full removal instructions
As to the adware program which is installed alongside Descargar Musica Gratis, it has been observed that it is installed silently, without the user's permission. The unwanted application is called keepvid.com. The name keepvid.com also stands for a platform which allows computer users to download vides from a lot websites, including Dailymotion, eHow, Facebook, FunnyPlace.org, Photobucket, and so on.
The advertisements that are displayed by keepvid.com are likely to be mainly display ads, which are placed in different location on different websites. The ads generated by keepvid.com promote various products and services. You may also be invited to take part in a questionnaire, where you are likely to be asked to provide your personal information. It is very important that you not reveal your personal details when dealing with dubious websites, especially when you do not know how and for what purpose the data acquired from you will be used. This recommendation applies to every unknown website to which you are taken, so if you care about your privacy, you should remove the unwanted adware program as soon as you can. Keep in mind that the adware program may monitor your browsing behavior in order to determine what your preferences and browsing patterns are. Do not get surprised when you find that the advertisements are very personal – it means that some analysts have drawn some conclusions about your browsing sessions.
In order to remove Descargar Musica Gratis and fix your browsers, we recommend that you implement a spyware removal. We recommend using SpyHunter because it can eliminate the online player and protect you from many other computer threats. With the recommended spyware removal tool on your PC, you will be protected from browser hijackers, Trojan horses, spyware programs, and other computer threats. If you want to try removing Descargar Musica Gratis manually, follow our instructions provided below. Having completed the removal, do not forget to implement a reliable scanner to make sure that the unwanted application is fully removed from the PC.
How to remove Descargar Musica Gratis
Windows Vista and Windows 7
Open the Start menu.
Click Control Panel.
Select Uninstall a program.
Remove the unwanted application.
Windows XP
Open the Start menu.
Click Control Panel.
Select Add or Remove Programs.
Uninstall Descargar Musica Gratis.
Windows 8
Press Win+R and type in control panel.
Click OK.
Select Uninstall a program.
Uninstall the unwanted application.
In non-techie terms:
Descargar Musica Gratis is a potentially unwanted program (PUP) which is bundled with adware. The adware program inserts its advertisements to different websites. If you have installed the two programs by mistake and do not want to use Descargar Musica Gratis, remove it from the system right now.
Aliases: DescargarMusicaGratis.