Do you know what Delivesinve.info is?
Delivesinve.info asks to show notifications so that you, allegedly, could stream TV shows and movies for free. When you are redirected to the website, it opens a pop-up notification that asks to allow the showing of notifications. The message on the page also delivers this message: "Clicking 'Allow' grants you full access to an Extensive TV & Movies Catalog. Click 'Allow' to browse the details of Thousands of the best streaming titles from your New Tab." Undoubtedly, this is bound to attract some people, but if you enable notifications by this adware server, you are bound to be flooded with ads from all kinds of parties, and you could also be introduced to misleading ads that hide links to unreliable websites. Continue reading to learn how to remove Delivesinve.info notifications and also how to check your system whether or not you need to delete adware (advertising-supported software).
If adware exists on your operating system, you could have been redirected to Delivesinve.info notifications request page from virtually any website. However, if a legitimate malware scanner you employ does not find adware, it is most likely that you were redirected to the page when visiting unreliable websites. Perhaps you were trying to stream a TV show or a movie using an illegal streaming website, and that is when Delivesinve.info pop-up showed up asking to enable notifications so that you, allegedly, could access a catalogue of thousands of titles. This is a scam, and if you do not want to be tricked, we suggest that you stop visiting unreliable websites in the future. You also need to be careful about the notifications you allow because even though many legitimate and trusted websites can ask to show notifications, this feature can be employed by malicious and unreliable websites as well.
Once you enable Delivesinve.info notifications, you might discover ads show up even when you are not browsing the web. According to our researchers, "notifications" could show up on the Desktop too. In fact, it does not matter how advertisements are introduced to you. What matters is that you do not interact with any of them. If you do, you run the risk of landing on scam pages set up to extract information, steal login credentials, promote fake products, or even hide malware installers. These are the risks you could face if you enabled notifications by Arisedsore.info, Edhappearer.info, Welsworn.info, or any other unreliable adware server. Without a doubt, you ought to be careful, and that is why you need to be selective about what content you interact with online and which parties you allow to show you ads. Since you do not know who exactly is delivering Delivesinve.info ads, you need to remove notifications ASAP.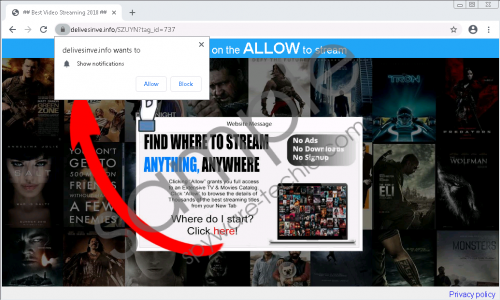 Delivesinve.info screenshot
Scroll down for full removal instructions
You are most likely to enable notifications on Google Chrome or Mozilla Firefox, which is why these are the browsers represented in the guide below. If you need to remove Delivesinve.info notifications from any other browser, please let us know. We will update the guide quickly. As for the instructions, you need to delete Delivesinve.info entry from the Notifications menu on both browsers, and the steps below should make the process very simple. We also show how to clear browsing data because if you have enabled notifications and especially if you have interacted with any of them, there is a good chance that you now have data-trackers spying on you. Once you disable notifications and clear browsing data, think about installing legitimate anti-malware software to ensure that you are protected 24/7.
Remove Delivesinve.info notifications/ads
Google Chrome
Open the browser.
Enter chrome://settings/content/notifications into the address bar.
In the Notifications menu, find the website whose notifications you want to disable.
Click the More action (three dots) icon on the right and choose Remove.
Enter chrome://settings/clearBrowserData into the address bar.
Move to the Advanced tab and, first, choose a time range.
Choose the boxes you want and then click Clear data.
Mozilla Firefox
Open the browser.
Enter about:preferences#privacy into the address bar.
On the left, click Privacy & Security.
Go to Permissions, then to Notifications, and click Settings.
Click the website whose notifications you want to and click Remove Website.
Go back to the Privacy & Security menu and then to History.
Click Clear browsing data and, first, choose a time range.
Choose the boxes you want and then click Clear Now.
In non-techie terms:
Delivesinve.info is an adware server, and it was set up only to show you advertisements from third parties. Because this adware server is not trustworthy or transparent, you should not expect reliable service providers or product vendors to use its servers. It is much more likely to be used for the promotion of scams, malware, and unreliable offers. While you cannot delete the adware server itself, you certainly can delete Delivesinve.info notifications. The guide you can find above shows how to do it on Google Chrome and Mozilla Firefox browsers. Besides clearing your browsers, you also ought to scan your system to make sure that adware or malware does not exist. If it does, a trusted anti-malware tool can take care of it all.