Do you know what Defru virus virus is?
Recently, Russian-speaking computers users have been attacked by a new malware program dubbed Defru, which alters the Windows hosts file so that the user is redirected to a single phishing website which looks like an online Windows scanner. The scanner is called Windows Security, and, as the scanner suggests, the computer is infected with multiple threats, including Trojan Horse IRC, Adware.Win32.Look2me, Trojan.Qoologic, Trojan.Fakealert, Trojan virtumonde, and many other threats. All these infections are non-existent, i.e. the scanner provides fake results to deceive you into investing in a program that can supposedly eliminate those threats from the PC.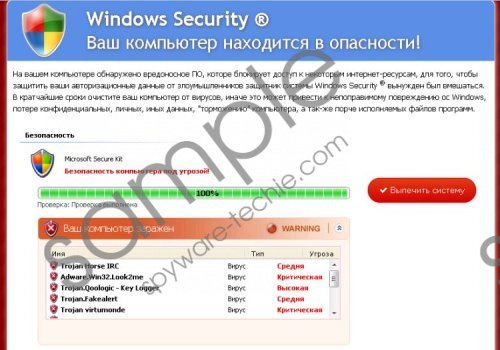 Defru virus screenshot
Scroll down for full removal instructions
It is crucial to ignore the recommendation by the Windows Security scanner even thought the sum required is only $4.75 USD. You cannot be sure that you will be able to browse the Internet as usual after transferring the money to the attackers; hence, we recommend that you take action to remove the Defru virus from the computer.
The Defru malware alters the hosts file by filling it with an IP address and many host names. As a result, you are redirected to a single web page when you attempt to access one of the websites the address of which is added to the hosts.txt file. The Defru virus blocks access to popular websites such as Facebook and Instagram, and many Russian websites, including Yandex. In total, over 700 entries are added to the file in order to deceive you into paying up.
All these alterations are carried out by a file called w1ndows_b456, the name of which is known to vary on different computers. The file is located in the AppData directory and is known to start running at every Windows startup.
If you are wondering how this Defru malware has entered your computer, you should rethink your latest actions online. This type of malware spreads over the Internet via insecure websites, pop-up advertisements, and spam emails; hence, you should be very careful whenever you are exposed to questionable content. However, all that you should do at the moment is remove the Defru virus from the computer.
We recommend that you implement SpyHunter because this security tool can remove the Defru malware for you and fix the hosts file so that you can save your time. Moreover, this program protects you against many other threats, including Trojan horses, ransomware infections, adware, rootkits, browser hijackers, and many other threats.
In non-techie terms:
If you want to have Defru removed, implement our recommended security program. To do so, use the below-given instructions. In case you have any questions, feel free to leave a comment below.