Do you know what Deeal is?
Deeal is an adware application that may also infect you with a Trojan. Some users get misled into thinking that this program can help them save money when they shop online, but it is not the case. Deeal is a French adware application that exposes you to potential computer security threats. If you are a security-minded computer user, you will remove Deeal from the system immediately, making sure that all the related programs are gone from the PC as well. Also, do not forget that regular system scans with a reliable malware detection and remove tool are a must.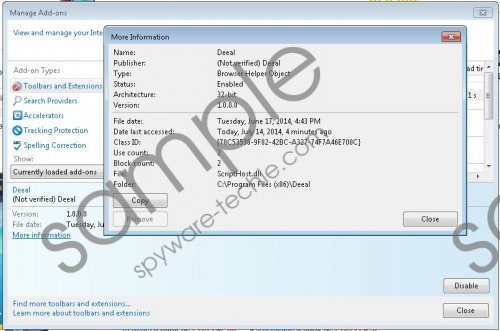 Deeal screenshot
Scroll down for full removal instructions
Our research lab team says that there are at least two different Deeal adware apps out there. One is the application targeted at French-speaking computer users, and it is the program that might infect you with a Trojan. The other is based on Crossrider engine and often has several variations, for example, Deeal_fr 0.2, Deeal_uk, Deeal_FR and so on. However, both applications work in a very similar manner – they collect data on your web browsing habits and then display a lot of annoying advertisements. These advertisements are supposed to be related to your likes and preferences, but you should never click them.
Deeal and similar adware apps could be easily exploited by cybercriminals. Adware programs are there to make money, and they do not care much about third-party content security. Hence, all the ads that Deeal displays might be embedded with corrupted links that redirect you to potentially malicious websites. Landing on a corrupted website might result in a serious malware infection or personal data leak, and that is certainly something you have to avoid at all costs.
It is very likely that you have installed Deeal onto your computer bundled with other freeware. It means that you need to refrain from downloading software at third-party file hosting websites, especially if you do not know who has created the software. If you must download a particular program, search for its official websites, and download apps from official vendors only – it will surely lower the risk of getting infected with the likes of Deeal.
Fortunately, it is not complicated to remove Deeal via Control Panel. By uninstalling the application, you will delete extensions from all the affected browsers automatically. However, you have to remember that in some cases Deeal brings a Trojan upon your system as well. Trojan removal is not advised to perform manually, especially if you are not an advanced computer user. You should invest in a legitimate computer security application that would detect all the dangerous files and remove them at once.
How to remove Deeal
Windows 8
Drag mouse cursor to the bottom right of your screen.
Click Settings on Charm bar and go to Control Panel.
Select Uninstall a program and remove Deeal.
Windows Vista & Windows 7
Open Start menu and click Control Panel.
Select Uninstall a program and remove Deeal.
Windows XP
Click the Start menu button and select Control Panel.
Open Add or remove programs and uninstall Deeal.
If you are not sure that you can perform manual removal properly, you can also refer to the secondary set of instructions below this description. The secondary set of instructions helps you to terminate all the unwanted and dangerous applications from your PC at once.
In non-techie terms:
Deeal is a potentially dangerous adware application that spams you with irrelevant commercial content and exposes you to computer security threats. You need to remove Deeal from the PC as soon as possible, otherwise you might face serious consequences.