Do you know what DealsFinder is?
DealsFinder is a program that gets installed on your computer when you download freeware from unfamiliar websites. These days, users often download shareware applications from third party file hosting pages without any second thought. However, if you are about to download and install a new program, you are strongly recommended to download from an official website only, otherwise you may accidentally install the likes of DealsFinder along. It is important that you remove DealsFinder from the PC in order to avoid any potential security risks.
DealsFinder is an adware application and as such it is very similar to Media Player Enhance and other programs from the same group. At first it may seem like a useful application that is compatible with Internet Explorer, Mozilla Firefox and Google Chrome, but the reality is that DealsFinder is more annoying than useful, and it can be indirectly responsible for various personally non-identifiable data leaks and even malware infections.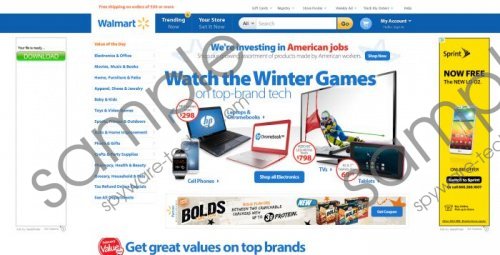 DealsFinder screenshot
Scroll down for full removal instructions
The main aim of DealsFinder is to display commercial pop-ups and coupon offers on popular websites, such as YouTube, Amazon, Ebay and others. These pop-ups are displayed in order to generate financial revenue to DealsFinder's creators. Also, it may seem that DealsFinder display coupon offers and discounts in order to help you save money on your purchases online. That might be the case to some extent, but you have to remember that this application does not review the content it displays in the pop-ups. Therefore, the application's privacy policy does not cover third party content.
It reveals a vulnerability that can be quickly exploited by a malevolent third party. If cyber criminals detect this security loop they can make use of DealsFinder to deliver malware or expose you to shady marketing schemes. Either way, it is obvious that DealsFinder cannot be allowed to remain on your computer and the sooner you remove it the better.
However, removing DealsFinder alone would not help you solve the problem. As it has been mentioned above, DealsFinder must have arrived with other programs, because such applications are usually distributed bundled together. Hence, you obviously have not just one, but more potentially unwanted applications on board that are bound to expose your system vulnerabilities to malicious third parties.
Thus, in order to determine which programs are supposed to be removed from your PC, run a full system scan with a licensed antimalware application and then delete the programs automatically if you find manual removal too tricky. Also, do not hesitate to leave me a comment below, if you need any help adware removal.
Manual DealsFinder Removal
Windows 8
Slide mouse cursor to the bottom right corner of the desktop.
Wait for Charm bar to appear and then click Settings.
Choose Control Panel and open Uninstall a program.
Remove DealsFinder.
Windows Vista & Windows 7
Open Start menu and select Control Panel.
Go to Uninstall a program and remove DealsFinder.
Windows XP
Open Start menu and navigate to Control Panel.
Select Add or remove programs and uninstall DealsFinder.
In non-techie terms:
DealsFinder is an adware application that displays a lot of annoying pop-ups. These pop-ups can lead to dangerous websites and you may end up getting infected with malware. Therefore, to prevent that from happening, remove DealsFinder right now.
Aliases: Deals Finder.