Do you know what Deals Avenue is?
Many users do not realize that Deals Avenue is actually a malicious program. Testing has shown that Deals Avenue displays commercial advertisements, which makes it an adware type program. We recommend that you remove this program, because the content it promotes is highly unreliable. Furthermore, the program and its website collect information about you, which is a violation of privacy, so you should not tolerate this. This article will provide you with essential information, which will prove to you that Deals Avenue is not good and that you should remove it.
Deals Avenue comes from a mysterious software developer that is responsible for creating Results hub, Filter Results, Sale Clipper, and a few other infections. The developer and publisher are always of the same name as the infection itself. All the aforementioned infections have a similar promotional website. In the case of Deals Avenue, the website is called Dealsavenue.net, and like the websites of its clones, it does not feature a lot of information about the program. It promotional slogan makes absolutely no sense. But the pointless name of the infection says it all. Deals Avenue – an annoying program that will not benefit your browsing experience in any way.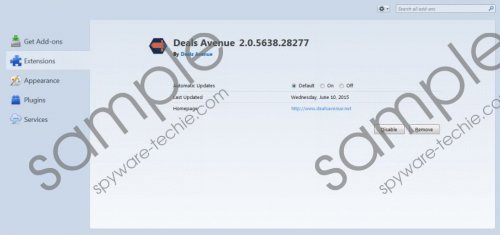 Deals Avenue screenshot
Scroll down for full removal instructions
The developers use software bundles to distribute Deals Avenue around the web. For those of you who do not know what software bundles are, you should know that it's a package that contains more than one application. Software bundles containing Deals Avenue can be found on websites, such as Brothersoft.com. Soft32.com, Softpedia.com, and so on. Note that you can avoid installing certain applications by opting for advanced/custom installation.
It is important to understand that Deals Avenue is not a harmless application, it is the opposite of that. It has been created for the sole purpose of displaying various forms of commercial advertisements. You should not trust its ads because they are supplied by unreliable entities. So, it is possible that your computer will become infected with malicious software, because fake commercial ads it a known vehicle for distributing infections. Note that your computer can become infected with various forms of Trojans, such as worms, keyloggers, backdoors, ransomware, and so on. Although the possibility of this happening is rather slim it is still not worth taking the risk. And, in any case, who would want to be annoyed with ads anyway?
However that is not the only reason why you should remove Deals Avenue. Research has shown that the application uses JavaScript, web beacons, and browser cookies to collect information about you. This information is collected stored and often shared with third-parties in order to make their content more appealing. The developers get paid for promoting, so they do not care what they promote as long as it pays.
We hope that the information we have provided was useful. During the research we have come to the conclusion that Deals Avenue is a malicious application that only serves to jeopardize a computer's security. Therefore, we recommend that you remove the application as soon as you can. Feel free to use our manual removal guide that will help you get rid of this infection. You can also leave a comment or a question in the comments section below if something is not clear enough.
How to remove Deals Avenue from Windows
Windows 8 and Windows 8.1
Navigate the mouse to the lower left corner of the screen.
Open the Start Screen.
Type in uninstall in the search box and go to Settings.
Click Uninstall a program.
Find Deals Avenue.
Right-click on the program and click Uninstall.
Windows 7 and Windows Vista
Navigate the mouse to the lower left corner of the screen.
Open the Start menu.
Select the Control Panel.
Click Uninstall a program.
Find Deals Avenue, right-click on the program.
Click Uninstall.
Windows XP
Navigate the mouse to the lower left corner of the screen.
Open the Start menu and open the Control Panel.
Click Add or Remove Programs.
Find Deals Avenue and click Remove.
In non-techie terms:
Deals Avenue is considered to be an adware-type program that promotes unreliable third-party content. Neglecting the presence of the risks that Deals Avenue poses might get your computer infected with malicious software or get your personal information leaked to untrustworthy entities. Therefore, we recommend that you remove this application using the instructions provided above or a antimalware application, called SpyHunter, which you can download from our website.