Do you know what Dealnj is?
Google Chrome users have to beware of Dealnj. This is an advertising-supported program, and it was created primarily to showcase third-party content. As you probably know, adware – which is short for ad-supported software – can be malicious or harmless, and we are afraid that this one could be more unreliable than you would like it to be. Sure, this program promises to provide you with the latest deals and offers, but can they be trusted? According to the information at dealnj.co/lp/index-extlp.html, this adware is supported by all Windows operating systems starting with XP and ending with the latest Windows 10. This means that this program might be broadly spread. The official website also provides a working installer, as well as legal information associated with the product it promotes. Learn more about this and the removal of Dealnj by reading this report.
Not many computer users realize the importance of a Privacy Policy. This document reveals a lot of useful information that could help you figure out whether software requires removal. According to the policy provided by Dealnj, this adware can collect personally identifiable information, which is an important motive to delete suspicious software. It is stated that your IP address, information about your browsers and operating system, as well as "technical details" can be recorded. We do not believe that this is the full list of data that can be collected, considering that it does not even include personally identifiable information. Of course, cookies are used for the collection of this information, and it is most likely that they will be mainly used to track your interaction with the ads shown to you. Another important thing we have learned while analyzing the Privacy Policy is that information can be shared with third parties. There is not enough information about these parties, and we cannot say whether or not they can be trusted, which is why we believe it is best to delete this adware.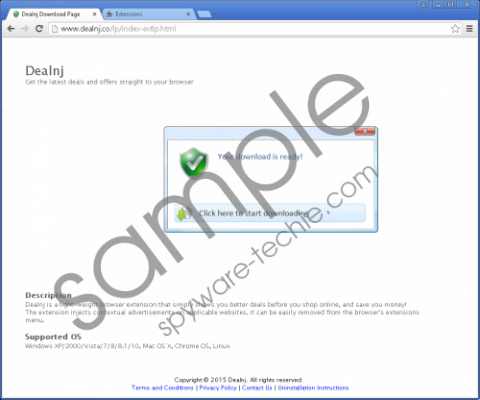 Dealnj screenshot
Scroll down for full removal instructions
If you did not acquire Dealnj from its official website, you might have found it via the Chrome web store at chrome.google.com/webstore/category/apps. At the time of research, this page informed that over 203,000 users were using this suspicious adware. Regardless of which source introduced you to this program, you must have been informed upon installation that it can "Read and change all your data on the websites you visit." This discloses that it can track your virtual activity and inject offers and all kinds of advertising into the pages you visit. Once installed, you will find this suspicious extension in the chrome://extensions/ menu. The ID of this extension can be viewed in "developer mode," and it is icliakeeeonnadlkinkjbcdhbhijecej. If you want to locate the files associated with this adware, this ID is very useful, as it is also the name of the folder where these files hide. Note that you can find all Chrome extensions under C:\Users\[user name]\AppData\Local\Google\Chrome\User Data\Default\Extensions.
According to our research, Dealnj is most popular in India, with over 28% of all detections coming from India. This adware is also spread in Pakistan, Thailand, Brazil, and the United States. As predicted already, this advertising-supported program is greatly spread, and its strength is its ability to adapt to its users. For example, if you live in the UK, you will see ads on such sites as banggood.com and viking-direct.co.uk, while users in the USA, will see ads on target.com, verizonwireless.com, and other US-targeted sites. Luckily, it should not be difficult to identify the ads shown, as they should appear with tag "brought by Dealnj." If you have downloaded this adware bundled with third-party malware, unrelated ads could show up as well.
We trust that all users will be able to remove Dealnj without any trouble. If this adware was installed along with third-party malware, an antimalware tool is irreplaceable. If an extension is all that you need to worry about, we can show you how to delete it manually. This Chrome extension should leave no annoying leftovers after you get rid of it from the browser using the guide below.
Remove from Chrome
Open the Chrome browser.
Simultaneously tap Alt+F to access the Chrome menu.
Move the cursor to More tools for more options.
Click Extensions to access the chrome://extensions/ menu.
Identify the unwanted extension and click the trash button next to it.
Select Remove to get rid of this adware.
Restart your browser.
In non-techie terms:
Although there are many programs that offers seemingly authentic services, not all of them are genuine and trustworthy. Programs that promise to help you save money are almost always advertising-supported, and trusting them could be extremely dangerous. We suggest removing adware from your PC and all other potentially unreliable programs as soon as possible. If you are struggling with manual removal, utilize antimalware software that could help you eliminate unreliable, malicious programs automatically.