Do you know what DealDay is?
DealDay has been under the radar for quite some time now, but our research team has recently received a sample of it and ran some tests. As expected, the application turned out to be adware in nature, and therefore, we recommend that you remove it. We are obliged to provide you with all of the information we know about this program so that you could avoid unintentionally getting your computer infected with DealDay. In a nutshell, the application displays advertisements that are provided by unreliable entities. The as might compromise your computer's security and get it infected with far more malicious programs. Therefore, you should remove it as soon as possible.
Like most adware programs these days, DealDay has a promotional website at Dealday.com. However, due to unknown circumstances the website currently does not work. But we expect it to be up in no time. Alas, we do not know whether the application was disseminated via the website, so we do not know that are its main vehicles of distribution. It might be possible for it to be distributed using software bundles, but we did not come across any examples of such cases nor have we received any reports about it from our users. So, if any of our readers are aware of how this program enters the computers, please share your knowledge with the rest of the community in the comments section below.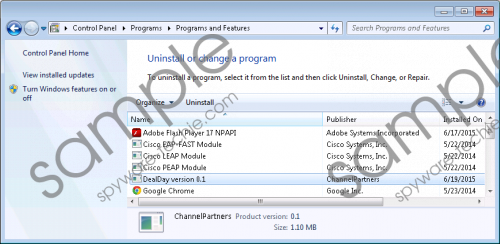 DealDay screenshot
Scroll down for full removal instructions
Advertising is all about making money from promoting things that people do not really need, that are over-priced and do not work. Online advertising is especially aggressive, and DealDay is a good example of it. The application is known to show coupons, banners, and pop-ups. The application uses the pay-per-click system so that the developers get paid. To increase the chances of you clicking the ad, the application collects information about your browsing habits and sends it back to the developers for market analysis. And that is how the developers can maximize their profits.
One more thing to note is that the developers rarely endorse their promoted content, so it is likely that you will be subjected to unreliable third-party ads that you should not click under any circumstances. We cannot say for certain, but DealDay might display fake Adobe, Java updates, fake system utilities that are actually rogue applications that will demand that you pay money, and various other kinds of infections that can enter your computer silently. Therefore, our experts recommend that you remove DealDay from your computer as soon as possible.
In conclusion, we can say that DealDay is an adware application that you are less likely to encounter due to current developments. However, it is possible that its website will be reactivated. Therefore it is important that you remove it, because it collects information about you and displays various pop-ups, coupons and other forms of ads that are of unknown origin. So, do not hesitate and get rid of this application at your earliest convenience.
Remove DealDay from the OS
Windows XP
Open the Start menu, and click Control Panel.
Open Add or Remove Programs.
Locate DealDay and click the Remove button.
Windows Vista and 7
Open the Start menu, and click Control Panel.
Select Uninstall a program.
Locate DealDay and click the Uninstall button.
Windows 8 and 8.1
Open the Charm bar.
Click Settings, and select Control Panel.
Open Uninstall a program.
Locate DealDay and click the Uninstall button.
In non-techie terms:
DealDay is an adware-type application that you must remove, because it might compromise your computer's security by displaying unreliable third-party advertisements. If you accidentally click an ad your computer might become infected with malicious software such as Trojans. The application also collects personal and non personal information about you using the application and third-party sources, so we suggest that you remove DealDay as soon as you can.