Do you know what DealBulldog is?
DealBulldog is a browser extension that is related to online shopping. It can be installed on either Internet Explorer or Mozilla Firefox web browsers, and it adds a toolbar on your browser with a custom search engine box and several shortcuts. These shortcuts supposedly allow you to compare prices of the same item in various online shopping malls, as well as provide you with discount coupons for the goods you like the most. Unfortunately, this add-on is categorized as potentially unwanted program, and it is highly advisable to remove Dealbulldog from your system as soon as possible.
The official website for this add-on can be accessed at dealbulldog.com. However, at the time of writing the toolbar is no longer up for download from this website. Therefore, if you have this add-on installed, it is likely that you have downloaded Dealbulldog from third party website with freeware applications. This calls for caution and attention when you install various free applications, because information about additional software may be provided in the installation steps. Therefore, you need to be careful and do not skip through the installation steps, otherwise you will end up with a list of unwanted programs on your PC.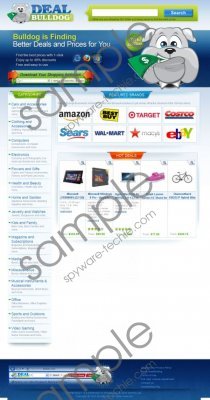 DealBulldog screenshot
Scroll down for full removal instructions
Regardless of the method of installation, once DealBulldog settles in your system, each time you access one of its supported websites (Amazon, BestBuy, eBay, Search, WalMart and so on), you are displayed various pop-up ads and coupon deals that should help you save you money on your purchases. That would actually be great, if there were no catch to it.
The most alarming thing about DealBulldog is that it utilizes invasive techniques in order to make you click its pop-up ads. What is more, it might as well be used by a malicious third party to infect your computer with malware or steal your personal information. That is why you need to remove DealBulldog from your computer right now. Luckily, it is easy to terminate this plugin manually. All you have to do is follow the instructions below.
Manual DealBulldog Removal
Windows 8
Move mouse cursor to the bottom right of the screen.
Click Settings and go to Control Panel.
Click Uninstall a program and remove DealBulldog Toolbar.
Windows Vista & Windows 7
Open Start menu and click Control Panel.
Go to Uninstall a program and remove DealBulldog Toolbar.
Windows XP
Open Start menu and go to Control Panel.
Select Add or remove programs and uninstall DealBulldog Toolbar.
If you think that there may be other dangerous programs installed on your computer, do run a full system scan with SpyHunter free scanner.
In non-techie terms:
DealBulldog is a browser plug-in that can put your computer at a serious risk. Remove DealBulldog from your computer and then make sure that your system is absolutely safe from other dangerous threats.
Aliases: Deal Bulldog.