Do you know what DealBarium is?
It goes without says that you should always be aware of the type of application you are installing. Some of them are not what they seem to base, and that is the case with DealBarium. This program is actually an adware-type program that you should remove in a timely manner, because its promoted content has been deemed unreliable by various cyber security websites. We to took a close look at DealBarium and we not surprised to find that it is very similar to a couple of infections that we recently wrote about.
It must be noted that this adware application is identical to PriceHorse, PriceChomper, and a few others. Like its counterparts, DealBarium has a promotional website, called Dealbarium.com. However, the application cannot be downloaded from the website, so it must be distributed using other means. To date, we have not received any information about this application being distributed via software bundles. But, it is very likely that it is, since there is no other effective means of distributing it. In any case, you should always be cautious when installing software from freeware websites, because it is bound to bundled with adware applications, such as DealBarium.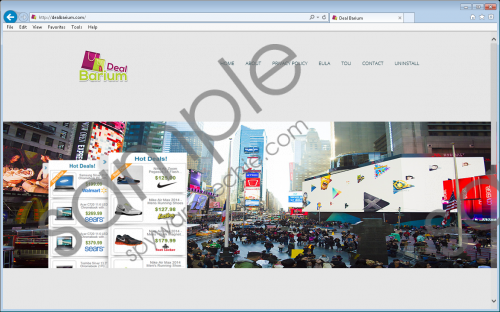 DealBarium screenshot
Scroll down for full removal instructions
We recommend that you remove DealBarium, because it displays ads that are not only irritating, but also pose a significant threat to your computer's security. Research has shown that the application mostly shows coupons that contain ads that promote products from various online retailers, Walmart being one of them. Clicking an advertisement will redirect you to the products page, but in some cases you might get redirected to a totally different, potentially malicious website. There is the possibility that your computer might become infected with malicious applications that in some cases cause a lot of trouble. Malware, such as Trojans are very difficult to get rid of manually, so we recommend that you remove DealBarium.
One last thing we need to discuss is information collection. Like all adware programs, DealBarium has the ability to track your browsing activities. The programs developers will know what website you register on, email address, phone number, credit card information, full name, social security number and so of. Provided of course that you willingly enter this information is one of the partner websites. This information collection business should not be tolerated, the application will infringe your privacy right or none level or another. Therefore, we recommend that you remove DealBarium as soon as you can.
We hope that the information we have provided in this article has shed light on some of the shady activities adware developers engage in. Clearly, DealBarium is not an application you should keep on your PC, because it will but your PC's security in jeopardy by subjecting you to unreliable commercial content, in addition to gathering personal information about you. There is no time to waste, so we recommend that you remove DealBarium using our instructions right now.
Remove DealBarium from your PC
Windows 8/8.1
Open the Charm bar.
Click Settings and select Control Panel.
Open Uninstall a program.
Find DealBarium, right-click on it and click Uninstall.
Windows 7/Vista
Open the Start menu and click Control Panel.
Select Uninstall a program.
Find DealBarium and right-click on it.
Click Uninstall.
Windows XP
Open the Start menu and click Control Panel.
Open Add or Remove Programs.
Find DealBarium.
Click Remove.
In non-techie terms:
DealBarium is an adware application that is likely distributed using software bundling. This program will not benefit your browsing experience in any way, as it will only show you various commercial ads in the form of coupons. The promoted content likely belongs to advertisers of unknown origin. It is likely that your computer will get infected with more malicious software if you do not remove it. So we invite you to do so as soon as you can.