Do you know what Deal Keeper is?
Deal Keeper is an application that is classified as an adware program by malware experts. Often applications like this are marketed as useful tools to enhance web browsing in a certain way. In the case of Deal Keeper, publishers state that once you install their software on your PC you will be presented with various useful comparison deals with best prices; thus, saving you time and money. In reality, Deal Keeper does not do anything remotely close that. Sadly, it will only disrupt your web browsing making it an annoying and frustrating process to say the least. Our team at Spyware-Techie.com firmly urges you to remove Deal Keeper right away. Removal guide and further important information about Deal Keeper is included within the article.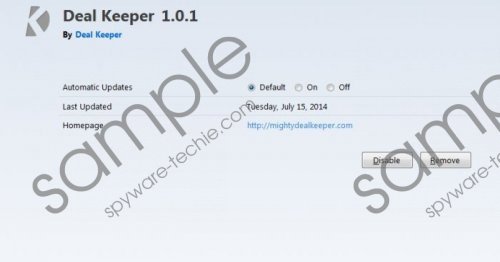 Deal Keeper screenshot
Scroll down for full removal instructions
The official website of Deal Keeper provides a direct download link, but it does not seem to work. Thus, it is safe to assume that Deal Keeper is distributed just like so many other adware applications – bundled with dubious installers. These installers are often downloaded from websites that are suspicious to say the least. Websites like these do not provide the required information about the download that they promote. In order to avoid infecting your operating system in this way, it is advised to implement a professional antimalware tool. Trustworthy malware detection and removal tools are able to identify a potentially malicious website or an installer. Furthermore, reliable tools are able to remove any virtual threat instantly.
Once Deal Keeper enters your operating system it installs browser extensions to popular browsers like Internet Explorer and Mozilla Firefox. Extensions are used to present you with numerous annoying commercial third-party adverts while you browse the web. Annoyance is not the only thing that these ads can cause. Some adverts might contain a redirect link to corrupted websites that may be implemented with an arbitrary code execution exploit. It means that if you land on a website with this exploit your system is more than likely to get infected with some other unknown malware. Unfortunately, it is impossible to determine which of the ads might contain these redirect links. Thus, it is not advised to click on any of them as long as Deal Keeper is running on your PC.
Removal guide that our team provides is effective if performed carefully and flawlessly. Removal via Control Panel removes all the extensions and in most cases deletes all the associated files from your system. Sadly, it was noticed that sometimes Deal Keeper might leave some traces on your system. These traces could be used as a backdoor by other internet-based infections to infiltrate your system. If you wish to be sure that your system is clean and secure, it is advised to install a licensed antimalware tool.
How to remove Deal Keeper from your operating system
Remove from Windows 8
Move the mouse cursor to the bottom right corner of the screen.
Select Settings in the Charm bar.
Now click Control Panel.
Select Uninstall a program.
Then select and remove Deal Keeper.
Remove from Windows 7 and Windows Vista
Click the Windows button and select Control Panel.
Now select Uninstall a program.
Then select Deal Keeper and click Uninstall.
Remove from Windows XP
Select the Windows button.
Then select Control Panel.
Now click Add or Remove Programs.
Remove Deal Keeper from the program list.
In non-techie terms:
Deal Keeper is an application that holds no beneficial value in any way. Your system could benefit only from removing this invasive application without hesitation. If you wish to do so in a timely manner please read the instructions below.