Do you know what DBGer Ransomware is?
DBGer Ransomware is similar to Satan Ransomware, and so we believe the same cybercriminals might have created these threats. Just like the older version the malware should encrypt user's files and show a ransom note demanding to pay for decryption tools. Needless to say, it might be a waste of money as there are no reassurances the hackers will hold on to their words and deliver the promised tools. If you think it could be too risky as well, we recommend deleting DBGer Ransomware with the removal guide available at the end of this report. Users who think the instructions are a bit too complicated can employ antimalware tools instead. Also, we invite our readers to learn more about this malicious application by reviewing our article first. Should you have any questions about this file-encrypting threat, you could leave us a comment below the text too.
To begin with, DBGer Ransomware enters the system by exploiting a vulnerability in Windows. The exploit tool used for this task is called the EternalBlue exploit. It was created by the United States Nacional Security Agency (NSA), but as it often happens, it got leaked. It became available to various hackers who created malicious applications like WannaCry ransomware and attacked many Windows users. Naturally, Microsoft released patches for all their operating system versions as soon as they found out about the vulnerability, but still, there might users who have not updated their operating systems to this day. Unfortunately, the cybercriminals behind this threat are targeting such users and if you are one of them we would recommend getting the needed update immediately.
Our computer security specialists say the malware may settle in by placing randomly named files in the Desktop, Downloads, or Temporary Files directories. Then, it should start encrypting data and adding the [dbger@protonmail.com] prefix along with the .dbger extension to each affected file, for example, [dbger@protonmail.com]sunrise.jpg.dbger. Next, DBGer Ransomware should drop a text document with a message written in English, Chinese, and Korean. It says the victim has to pay 1 BTC in three days to get his files decrypted. Plus, it offers free test decryption as a guarantee. Clearly, even if the hackers can show they are able to decrypt locked files, there are no reassurances they will do so or deliver the tools so that the user could restore his data himself. Therefore, we do not think it would be wise to risk one's money, especially when the sum is enormous: one Bitcoin is more than 6 thousand US dollars at the moment of writing.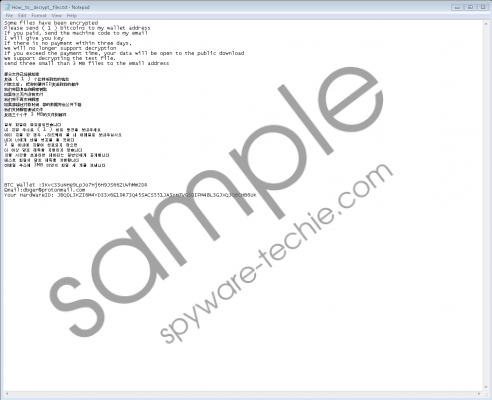 DBGer Ransomware screenshot
Scroll down for full removal instructions
Those who have no wish to put up with any demands could erase DBGer Ransomware either manually or with automatic features. If you prefer the first option, we would recommend sliding a bit below this paragraph where you will find our provided removal guide. It will explain this whole process step by step. On the other hand, if you like using automatic features more, you could download a reputable antimalware tool and let it eliminate DBGer Ransomware for you.
Erase DBGer Ransomware
Click Ctrl+Alt+Delete simultaneously.
Pick Task Manager.
Take a look at the Processes tab.
Locate a process belonging to this malicious program.
Select this process and press the End Task button.
Click Windows Key+E.
Navigate to the suggested paths:
%TEMP%
%USERPROFILE%Desktop
%USERPROFILE%Downloads
Find suspicious files that were created when the system got infected, right-click the malicious files and select Delete.
Locate and erase the malware's ransom note (How__to__decrypt__files.txt).
Leave File Explorer.
Empty Recycle bin.
Restart the computer.
In non-techie terms:
DBGer Ransomware is a malicious program that might enter the system by exploiting a particular operating system's vulnerability. Its main task is to encrypt user's files so the victim could no longer open them and would have no other choice but to pay for a ransom to decrypt his files. However, you do not have to transfer the payment if you do not want to risk losing your money in vain. Locked data can be restored or to be more precise switched with unaffected copies stored on cloud storage, user's removable media devices, and so on. In other words, if you prepared a backup option, you may not need any decryption tools to get your files back. In which case, we advise you not to keep this malware on the system any longer and eliminate it with the removal guide available above this article or a reputable antimalware tool of your choice.