Do you know what DataZip?
DataZip is a free application which claims to be very useful and easy-to-use compression software. The program itself is based on the 7-ZIP engine, which is considered to be the most popular open source Windows utility for creating archives and extracting compressed files. Our specialists have tested DataZip thoroughly and found that it is a Chinese product because all its files are signed by 北京智明腾亿科技有限公司, whereas the publisher itself is Beingjing Zhingmingtengyi Technology Co., Ltd (might use a fake name). Even though the developer is located in China, we do not think that DataZip is aimed at Chinese users only because the official website of DataZip, which is datazip.net, is in English. In addition, users can select one of the following languages upon installation: English, Turkish, Portuguese, and Spanish. As can be seen, it targets users living in different countries, which suggests that it wants to be popular. In order to end up on thousands of different computers, DataZip tends to travel in bundles with other applications too. In other words, users do not need to download the applications from its official website in order to notice its presence. If you cannot explain how this program has entered your system too, you should eliminate this compression tool from your PC as soon as possible.
Many users tend to download DataZip themselves because this application claims to be able to a) create, open and extract Zip, TAR, Gzip, and RAR archives and b) create and extract from RAR and ISO files. The application also seeks to convince users that it is very fast and convenient to use. We cannot say that DataZip does not do anything because it is based on the 7-ZIP engine and it works quite well; however, we cannot confirm that it works faster if compared to other legitimate compression tools. In addition, specialists tend to classify it as a potentially unwanted program (PUP) for several reasons.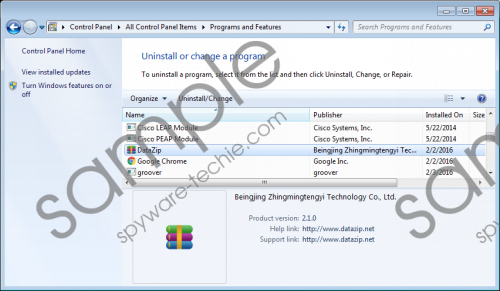 DataZip screenshot
Scroll down for full removal instructions
If you install DataZip on your computer or it sneaks onto your PC without permission, you will definitely notice its folder DataZip in %Program Files% or %Program Files(x86)% directories. The folder will contain such major files as datazipsvc.exe, dzUpg.exe, dzdl.exe, and DataZip.exe. Have you already found them? If so, we are sure that this tool is installed on the system. We do not think that it is the best idea to keep it installed because there is a possibility that it will drop malicious software (e.g. browser hijackers, adware, PUPs, and other threats) on the system. It is very likely that the origin of malware this program might install is soft365.com because DataZip connects to the server of this page. Research carried out by our experts has also revealed that this program will make connections to xingcloud.com from time to time. It means that it will use your Internet connection and might start performing other undesirable activities behind your back one day too.
Even though DataZip is available for download on its official website, we are sure that this program is distributed in a different way too because it is extremely prevalent. Researchers believe that this piece of software is distributed in software bundles. In addition, there is a very huge possibility that DataZip has been dropped by a Trojan. Yes, there is a possibility that you have this serious computer infection on your PC too. To find out whether or not it is true, install a security tool and scan your system with it. We are sure that it will show what threats you have on your PC. As you already know, it is not so easy to protect the system from harm, so it would be really wise to install security software on the system, activate it, and keep it like that all the time.
You will not see DataZip on your system anymore if you delete this program via Control Panel. Unfortunately, you will still have to take care of its leftovers. Instructions which you will find below the article will help you to do that; however, if you find this too difficult or time-consuming, you can scan your system with a trustworthy antimalware tool, such as SpyHunter, and it will fix everything for you. We are sure that it will protect your system from future threats as well.
Delete DataZip
Windows XP
Click the Start button.
Select Control Panel.
Click Add or Remove Programs.
Select the program and click Remove.
Windows 7/Vista
Open the Start menu.
Click Control Panel.
Click Uninstall a program.
Select the undesirable program.
Click Uninstall.
Windows 8/8.1/10
Launch RUN and enter Control Panel in the box. Click OK.
Click Uninstall a program.
Select the unwanted application.
Click the Uninstall button.
Remove leftovers
Launch RUN and enter %PROGRAMFILES% (if you use 32-bit Windows) or %PROGRAMFILES(x86)% (if you use 64-bit Windows) into the box. Click OK.
Locate the DataZip folder, right-click on it, and select Delete.
Access the Registry Editor (tap the Windows key + R, enter regedit, and click OK).
Locate the following registry keys, right-click on each of them, and select Delete:
HKEY_LOCAL_MACHINE\SYSTEM\ControlSet001\services\datazipsvc
HKEY_LOCAL_MACHINE\SYSTEM\ControlSet001\services\eventlog\Application\datazipsvc
HKEY_LOCAL_MACHINE\SYSTEM\ControlSet002\services\datazipsvc
HKEY_LOCAL_MACHINE\SYSTEM\ControlSet002\services\eventlog\Application\datazipsvc
HKEY_LOCAL_MACHINE\SYSTEM\CurrentControlSet\services\datazipsvc
HKEY_LOCAL_MACHINE\SYSTEM\CurrentControlSet\services\eventlog\Application\datazipsvc
In non-techie terms:
If you have removed DataZip together with its leftovers from the system, it does not mean that your PC is 100% clean because this potentially unwanted program might have downloaded and installed other unreliable applications on your system without your consent. Therefore, it would be smart to scan the system with a reputable scanner. You can download the diagnostic SpyHunter scanner from our website.