Do you know what Damn Good Recipe Promos is?
Whether you are looking for recipes or just surfing the Internet via Google Chrome, you could encounter a browser extension called Damn Good Recipe Promos. If you expect cooking recipes from it, you might be disappointed because the application's description says nothing about such content. What it says is that users can receive targeted advertisements from third parties. If you do not need a browser extension that shows advertisements, this application is probably not for you. In such a case, you may want to erase Damn Good Recipe Promos from your browser. If so, you could delete it while following the removal guide available below this article. Also, the extension falls under the classification of potentially unwanted programs so you should be able to delete it with a chosen antimalware tool too. To learn more about it, we invite you to read our full report.
Damn Good Recipe Promos works only on Google Chrome and one of the places where users could find it is the Chrome Web Store page. The application is also available on its official website known as damngoodrecipe.net. We also believe that it could be distributed through file-sharing websites and pop-up ads. Thus, if you want to avoid potentially unwanted programs, we recommend downloading applications only from legit and reputable websites. Also, users should never download tools unless they are one hundred percent sure that their chosen programs are trustworthy. To be sure of this you should check if the application was created by a reputable company and what experts as well as users have to say about it. Picking a legitimate antimalware tool would be a good idea too as it can make it much easier for you to keep your system clean.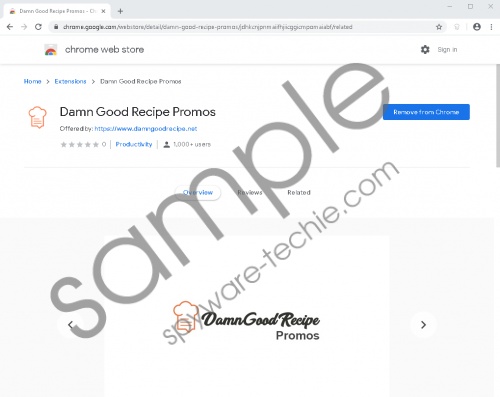 Damn Good Recipe Promos screenshot
Scroll down for full removal instructions
In the beginning of the article we mentioned that the application's title might make it look like Damn Good Recipe Promos provides cooking instructions, but its description does not mention recipes. To be more precise, the tool's description says that "By monitoring your web browsing activity, we can make sure offers and promotions are tailored to you." It makes it clear that if you install this extension, it might track you and display targeted advertisements based on your browsing habits. Also, if you take a look at the extension's Privacy Policy document you should find a statement saying that by installing it you agree to receive text links, pop-ups, banners, push notifications, and similar content that should be based on "the web content you view." Therefore, if you are looking for recipes on the Internet, it is possible that Damn Good Recipe Promos could show ads with them.
However, it is vital to know that the application might show third-party ads and that it does not take any responsibility for such content. In other words, the extensions' creators cannot promise that third-party ads will be trustworthy. Consequently, we advise being cautious if you end up interacting with Damn Good Recipe Promos displayed advertisements. Of course, if you have no wish to do so and do not want to keep this application any longer, you could erase Damn Good Recipe Promos by following the removal guide placed below or with a reputable antimalware tool.
Erase Damn Good Recipe Promos
Open Google Chrome.
Insert chrome://extensions into the address bar and press Enter.
Search for Damn Good Recipe Promos and click Remove.
If needed, confirm that you wish to Remove it.
Close your browser.
In non-techie terms:
Damn Good Recipe Promos is a potentially unwanted program. That is because the application might have unwanted qualities, such as tracking users and displaying third-party advertisements. No doubt such behavior could irritate anyone who does not like targeted ads or content that comes from unknown sources. If you are among such users yourself, you may want to think whether you want to install such an application. If you already did, but now want to get rid of it, you could follow our removal guide available above this paragraph. It shows how to erase Damn Good Recipe Promos right from the Google Chrome's extensions menu. You could also eliminate this potentially unwanted program with your chosen antimalware tool; just make sure that it comes from reputable creators. Lastly, if you need any help with the extension's removal or have questions about it, you could use our comments section to leave us a message.