Do you know what DailyWiki is?
At first sight, DailyWiki might seem like a tool that can improve your online searchers. This is mostly because vendors of this program advertise it like that. Unfortunately, this program is just one more adware application that you should avoid at all times. Statements about how good this program is are deceiving to say the least since it will not do what it should in the best way possible. Sadly, quite a large amount of users are influenced by the misleading marketing gimmicks and install a program which, in reality, is utterly worthless. In the majority of cases, this ad-supported program will cause annoyance and frustration as long as it is active on your operating system. Below we provide a detailed removal guide that was crafted by our malware experts to help you delete DailyWiki in the quickest way possible.
DailyWiki is responsible for the unusual amount of unwanted third-party web content within your browser. It is important to highlight the fact that this ad-supported application is compatible with web browsers such as Mozilla Firefox, Google Chrome, and Internet Explorer. This means that virtually no system is entirely safe. After this adware program enters your operating system, it will start a dubious background system service that is called dailywiki.exe. You can see it by using the Task Manager. The service in question is fundamental to the functionality of this adware because it triggers various connections to adware servers that will present you with those annoying ads and pop-ups. It goes without saying that such invasive content will ruin your online experience because you will be presented with all the ads and pop-ups on random websites, at random times whether you like it or not. You can stop this invasive activity by executing a complete removal of DailyWiki. If you fail you to do so, our online experience will remain ruined.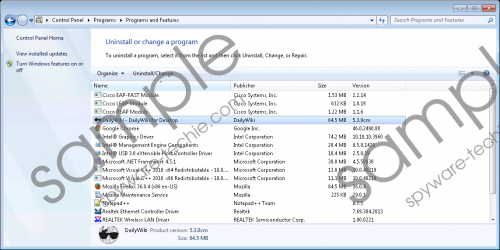 DailyWiki screenshot
Scroll down for full removal instructions
Since all the web content provided DailyWiki comes from dubious adware servers, it is not surprising that some ads and pop-ups could be embedded with redirect links. Thus, we highly advise you not to click on anything that this adware application might present you with. This is so because by clicking on a seemingly harmless ad or pop-ups you might get redirected to some suspicious or even potentially malicious third-party websites. In some rare cases, you could be taken to fake online shops or even sites that run the arbitrary code execution exploit and entering such a web page is enough to infect your PC with some unknown malware. Even though this is not an often case, it remains a possibility. Do not take the risk of running DailyWiki as it could have disastrous consequences, to say the least. Make sure to execute the complete removal of this adware program without any hesitation.
Fortunately, the removal of DailyWiki is rather straightforward because you can delete it via Control Panel. It goes without saying that you should analyze your PC for potential leftovers related to this adware once the manual removal is executed. This way you will be sure that every single bit of this program has been removed from your computer. This is important since even a few leftover files or registry entries of DailyWiki could be used as a security breach to enter you PC in a quick and easy way.
How to remove DailyWiki from your operating system
Windows Vista and Windows 7
Tap the Windows key on your keyboard.
Select Control Panel and click Uninstall a program.
Select DailyWiki and click Uninstall.
Windows XP
Click Start and then go to Control Panel.
Click Add or Remove Programs.
Double-click the unwanted application.
Confirm your choice.
Windows 8
Move the mouse pointer to the lower-left corner of the screen.
Right-click.
Select Control Panel.
Click Uninstall a program.
Right-click DailyWiki.
Select the Uninstall option.
In non-techie terms:
If you find trouble executing the manual removal of DailyWiki do not worry. To fully delete this ad-supported program you should follow the instructions that we provide below They will help you delete this adware in no time at all.