Do you know what DailyFunnyWorld Toolbar is?
DailyFunnyWorld Toolbar is another extension from the Mindspark applications family. Like many of them that we researched, the add-on is classified as a potentially unwanted program. Also, it works more or less the same as other tools from Mindspark family. The question is, why would they create lots of copies of software categorized as a potentially unwanted program? If it does not make sense to you either and you do not want to waste your time with an extension like DailyFunnyWorld Toolbar, we recommend erasing it at once. On the other hand, if you still have doubts and would like to learn more about it, we encourage you to read the rest of the article. If you decide to eliminate the application, you should have a look at the removal guide available below. Plus, if you want to ask anything else about it, you can always message us by leaving a comment below the article.
DailyFunnyWorld Toolbar is available to download on Chrome Web Store (chrome.google.com/webstore/detail/dailyfunnyworld/oiedaodjjdfnkfjaphcklblcolefkigc), but since it has a rather low rating of 2.6, we doubt users who want only best tools for their system would install it. What we mean to say is it could be spread through other channels too.
For instance, a lot of potentially unwanted programs are spread through bundled software installers. Some of these installers do not even allow to deselect bundled tools if the user does not choose advanced installation settings or do not explain it well that the bundled application is optional. As a result, users who do not pay a lot of attention might end up receiving bundled programs unknowingly. If you want to avoid this happening to you, we advise being cautious during installation. Plus, it would be smart to stay away from unreliable file-sharing sites that could distribute bundled setup files and pick a reputable antimalware tool for extra protection.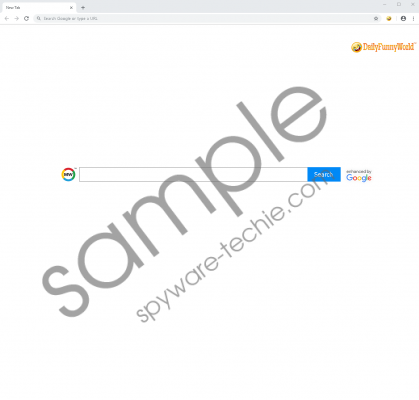 DailyFunnyWorld Toolbar screenshot
Scroll down for full removal instructions
According to its description, DailyFunnyWorld Toolbar is supposed to help users find "hilarious memes and GIFs to share with your friends." Because of this, the extension adds a toolbar below the browser's address bar filled with links to sites containing the mentioned material. Moreover, the potentially unwanted program could also change your homepage or new tab page with a search tool of its own. It should be called search.myway.com as most of the Mindspark add-ons use it.
What users who plan on searching the Internet through it should know is that after entering a keyword, search.myway.com could redirect you to a modified google.com version. Keep in mind is that the results you receive might be modified too or, in other words, not the same as the ones you could get while using the original google.com. Our researchers say DailyFunnyWorld Toolbar could inject them with third-party advertising content, such as pop-ups, banners, etc. If you hate such content, you could bookmark the extension's provided links that you find useful and then remove it.
It should not be complicated to erase the potentially unwanted program. Currently, it works on three browsers: Internet Explorer, Mozilla Firefox, and Google Chrome. Our removal guide available below can explain to you how to delete DailyFunnyWorld Toolbar from all of them step by step. Another way to eliminate it is to scan the computer with a reputable antimalware tool, wait for results, and then press its displayed removal button.
Delete DailyFunnyWorld Toolbar from Internet Explorer
Windows XP/Windows Vista/Windows 7
Navigate to the Start menu.
Access the Control Panel.
Pick either Uninstall a program or Add or Remove Programs.
Click the suspicious application and select Uninstall.
Windows 8/Windows 10
Tap Windows Key+R.
Insert Control Panel and press OK.
Choose Uninstall a program.
Select the potentially unwanted program and press Uninstall.
Erase DailyFunnyWorld Toolbar from other browsers
Google Chrome
Open Google Chrome.
Paste this link: chrome://extensions into the browser's address bar.
Press Enter and search for the potentially unwanted program.
Tap Remove and exit Extensions menu.
Restart your browser.
Mozilla Firefox
Open Mozilla Firefox.
Paste this link: about:addons into the browser's address bar.
Click Enter and go to Extensions.
Locate DailyFunnyWorld Toolbar and remove it.
Exit Extensions menu.
Restart your browser.
In non-techie terms:
DailyFunnyWorld Toolbar is a browser extension that could change your browser preferences and place a toolbar on it. On the toolbar, you might find various links to sites that ought to contain funny memes or images. While they may look useful, keep in mind you can bookmark them and so there might be no need to keep the potentially unwanted program installed. The application could be annoying to users who may not like seeing advertisements while they surf the Internet. As you see, it is possible the extension could gather information about the user's browsing habits and then display tailored ads. For example, the ads could appear among search results when searching through the application's search engine that uses a modified google.com version. If you do not want to risk encountering any irritating ads, you could eliminate the add-on and replace its search tool with a reputable search engine like google.com or search.yahoo.com. To delete the potentially unwanted program, you could use the removal guide placed above or a reliable antimalware tool.