Do you know what DailyBee is?
DailyBee is one of those programs that may look like something useful and important, but in reality, they are highly questionable and potentially unsafe. We are not here to say that this application is an immediate system security threat. That is very far from it. However, when a program appears on your computer (seemingly) out of nowhere, it is time to raise a few questions. If you did not plan to install this program on your computer, then it is clear that you have to remove DailyBee right away. And while you are at it, be sure to check your system for other potential threats.
We mention other possible security issues because it is very unlikely you installed this application on your system willingly. Of course, the program has an official homepage and working download link, but users who complain about this app seldom understand where it came from. That is why; we believe that the official homepage via dailybee-timeapp-studio.com is not the main distribution source. It must have entered your system bundled with other freeware applications. If you download various apps from file-sharing websites on a regular basis, it is only natural that you install more programs than you need.
It is often possible to avoid installing unnecessary applications, but users miss this chance as they breeze through the installation wizard. Of course, some of the additional programs may not be mentioned at all, but it is always recommended to read the steps in your setup wizard, and choose the custom installation mode, if you can, instead of the Default or Express. This way, you may avoid installing DailyBee on your computer.
Our research team suggests that this application is similar to DailyWiki. It is promoted as a shortcut that is supposed to allow you "use Wikipedia straight from your desktop." On the other hand, the official website has a disclaimer that says "DailyBee is not affiliated with Wikipedia or any Wiki Services in any way." So technically, the application is a third-party program that is offering a service. And the question is whether the Wikipedia it redirects you to is reliable in the first place.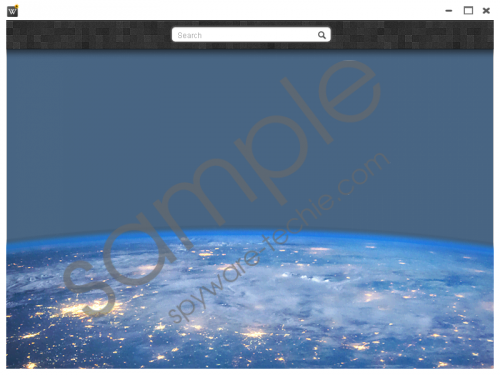 DailyBee screenshot
Scroll down for full removal instructions
During our tests, we have found that the DailyBee shortcut displays results from en.wiki2.org. This is not your usual Wikipedia. It is a third party website that has been revamped to look like an upgraded version of the online data bank. Thus, it is safe to say that by using this application, you are interacting with multiple third parties, and some of them may not be as good-natured as you think. In fact, it is rather common for third parties to make use of such application for content promotion. So, it is also possible that cyber criminals could make use of this program to spread their content.
Another annoying thing about this program is that you cannot turn off the auto-run function. Upon the installation, the program configures the registry in a way that it allows the application starts automatically the moment you turn on your computer. When you deal with a program that exhibits annoying features, it is obvious you have to get rid of it before it falls out of hand.
Remove DailyBee following the instructions we have provided below this description. To be absolutely sure that you have terminated all the potential threats, please can your PC with a computer security tool of your choice, too. What's more, there might be more unwanted applications on-board, so you will surely have your hands full, trying to terminate all the random apps.
If you think that manual removal is not an option for you, once again, we highly recommend the automatic software removal with a licensed antispyware tool. It is the most efficient and the fastest way to optimize your system, and keep unwanted intruders out.
Aside from investing in a security application, you should also employ safe web browsing habits. If you continue opening random websites and downloading programs from third-party sources, the chances are you will not be able to avoid similar issues in the future.
How to Remove DailyBee
Windows 10 & Windows 8.1
Press Win+R and the Run prompt will open.
Type Control Panel into the Open box and click OK.
Go to Uninstall a program and remove the application.
Windows Vista & Windows 7
Open the Start menu and go to Control Panel.
Click Uninstall a program and delete the application.
Windows XP
Press the Start menu button and open Control Panel.
Select to Add or remove programs and delete the application.
Delete Leftover Files
Press Win+R and type regedit into the Open box.
Click OK and go to HKEY_CURRENT_USER\Software\AppDataLow\Software.
Remove the DailyBee key under Software.
Press Win+R again and enter %LOCALAPPDATA%. Press OK.
Remove the DailyBee folder.
In non-techie terms:
DailyBee is a program that must have been installed on your computer accidentally. You should terminate the application and scan the system with the SpyHunter free scanner, as you may have many other programs running, too. Such programs can inadvertently expose you to dangerous content or slow down your computer. The bottom line is that when a program is unwanted, it should not be tolerated, so do everything you can to protect your personal information and your machine.