Do you know what Daily File Converter is?
Daily File Converter is a browser extension compatible with Google Chrome and Mozilla Firefox. It is promoted as a file converter, so we are not surprised at all that 7 182 users have already installed it directly from the Chrome Web Store. Without a doubt, there are more people who have it installed on their computers because this program can be downloaded from its official website https://www.dailyfileconverter.co as well. Also, research has clearly shown that it might travel in software bundles and even come as a redirect, which is, actually, one of the reasons Daily File Converter has been classified as a potentially unwanted program. These programs are not malicious, but they might still act in an undesirable way, for example, alter the main settings of your default web browser. Luckily, these programs are not harmful applications, so it is usually quite easy to delete them from the system. The same can be said about the Daily File Converter removal.
Daily File Converter is a file converter, as mentioned at the beginning. It converts files from PDF to DOC and vice versa, but it is not an ordinary piece of software. You could not open it like you launch ordinary programs because the converter is sort of integrated into the page set on the user's web browser. As mentioned in the first paragraph, Daily File Converter is compatible with Google Chrome and Mozilla Firefox. If you use any of these web browsers, we are sure you will notice the changes applied sooner or later. Daily File Converter should change your homepage, New Tab settings, and set a new default search provider. The page set contains the converter we have told you about, shows a feather forecast and time, and even contains a search box powered by Yahoo! to enable users to perform web searches. Speaking about this search tool, it should not show any modified search results, our team of experienced researchers say. Of course, it might not be as powerful as your old default search tool. If you do not like it for any reason, or you have simply not found Daily File Converter useful at all, you should delete this extension today. Once you take care of it, you could set a homepage, a New Tab, and a default search tool of your choice.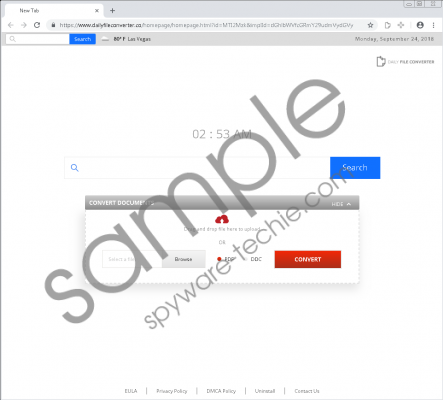 Daily File Converter screenshot
Scroll down for full removal instructions
Our specialists have also analyzed the Privacy Policy document that belongs to Daily File Converter in order to find out whether or not it gathers data about users. It has turned out that it focuses on the collection of the service use-based information, for example, device type, operating system, and IP address, but, of course, if you provide certain personal information about yourself, it might be recorded too. All these details will be used to administer your account, conduct research, and develop new services, to name only a few.
While a bunch of users download and install Daily File Converter consciously, we suspect that you might not be one of them if you are looking for information about this extension. If you cannot explain how this potentially unwanted application has appeared on your computer, it is very likely that it has been installed next to some kind of other program or programs you have recently downloaded from the web yourself. Either way, you have the freedom to erase Daily File Converter whenever you want to. The next paragraph will explain to you what to do to make it gone, but please be more careful the next time and enable security software on your computer because you might encounter harmful computer threats in no time if you do nothing to improve your system's security.
Daily File Converter is known to be a potentially unwanted program, which means that it is not dangerous malware, but it would still be best to remove it, especially if you have not found it anywhere near beneficial. To delete it, you need to open your browser's add-ons manager, select the extension, and click the Remove button. It should have affected only two browsers on your PC, i.e. Mozilla Firefox and Google Chrome.
Delete Daily File Converter
Google Chrome
Open Google Chrome.
Access its menu by pressing Alt+F simultaneously.
Click More tools.
Click Extensions.
Select the Daily File Converter browser extension.
Click Remove.
Mozilla Firefox
Launch Mozilla Firefox.
Press Ctrl+Shift+A on your keyboard.
Check the list and select Daily File Converter.
Click Remove.
In non-techie terms:
Daily File Converter is a piece of software that will change your browsers' settings once installed. It alters homepages, changes New Tab settings, and sets a new default search tool. If you were aware of the changes this extension applies before clicking the Download button, you will probably decide to keep it; however, if it has changed your browser's settings without your knowledge, you will have to erase it fully to remove the page it has set. The removal procedure will be as easy as winking with the above-provided instructions.