Do you know what Dablio Ransomware is?
Dablio Ransomware shows a warning message saying the threat has encrypted all of the user's files and now he has to pay in Bitcoins to get them back. Our computer security specialists have confirmed the malicious application enciphers private files it finds on the infected device. The affected data should have a particular prefix that should look like this (encrypted), for example, (encrypted).file.jpg. Files marked this way cannot be opened without unique decryption keys that are supposed to be generated during the decryption process. The problem is they might be accessible only to the malware's developers, and unfortunately, they are not willing to give them up easily; if they are at all. Instead of dealing with hackers and gambling with your money we would recommend erasing Dablio Ransomware and restoring files from backup copies you may store on removable media devices. To learn how to get rid of the threat, you could check the removal guide placed below. Also, you could find out more details about the infection by reading the rest of the article.
As many other malicious applications alike Dablio Ransomware could be distributed through malicious data or unsecured RDP connections. Knowing this, our computer security specialists advise starting with removing possible computer's vulnerabilities if you wish to avoid such threats in the future. For instance, it would be a good idea to update outdated software, change weak passwords, and so on. Next, we highly recommend not to download and, most importantly, not to launch any suspicious data received via Spam emails or downloaded from questionable file-sharing web pages. Interaction with such content could infect the system right away without you even realizing anything. Thus, if you receive email attachments from unknown sources or see a tool offered via irritating pop-ups or doubtful sites, it would best to stay away from such content. Each attachment or other files that come from an untrustworthy source should be scanned with a reputable antimalware tool first to make sure it is safe to launch.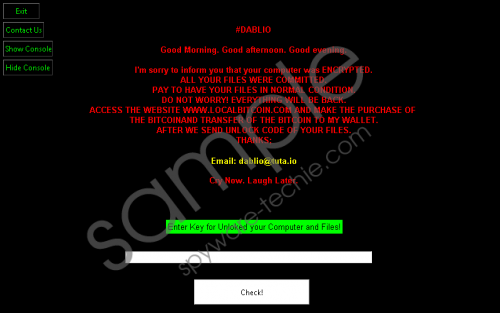 Dablio Ransomware screenshot
Scroll down for full removal instructions
Once Dablio Ransomware is launched it might start encrypting user's data right away as it does not look like the malicious application needs to create any folders or files. The data the malware is targeting could be pictures, photos, documents, videos, and other files the user might be unable to replace. Unlike program files, personal data cannot be restored if the user does not have any backup options and unfortunately not all users back up their files. Right after the encryption process, the user should notice a black warning window claiming the malware encrypted his data. According to it, the hackers behind Dablio Ransomware are willing to send the needed decryption key, but the user has to comply with their demands and pay a ransom.
Needless to say, paying the ransom could be hazardous as the hackers might start asking for more money or ignore you. Provided, you do not want to risk your savings we would advise ignoring the note and deleting the malware. Users who wish to eliminate Dablio Ransomware manually could try the removal instructions available below this paragraph. The other way to erase it is to employ a reputable antimalware tool and perform a full system scan.
Reboot in Safe Mode with Networking
Windows 8/Windows 10
Press Windows Key+I (Win8) or open Start menu (Win10) and click the Power button.
Tap and hold the Shift key and press Restart.
Open Troubleshoot and select Advanced Options.
Pick Startup Settings and click Restart.
Press your F5 key and reboot the device.
Windows XP/Windows Vista/Windows 7
Go to Start then select the Shutdown options and click Restart.
Click and hold the F8 key as soon as the device starts restarting.
Select Safe Mode with Networking and click Enter.
Log on to the computer.
Erase Dablio Ransomware
Click Windows Key+E.
Navigate to the suggested paths:
%TEMP%
%USERPROFILE%Desktop
%USERPROFILE%Downloads
%WINDIR%\SoftwareDistribution\Download
Find an executable file launched when the system got infected; it could be named Cmd.Exe or Dablio.exe, and it might have Google Chrome icon.
Right-click the malicious .exe file and select Delete.
Leave File Explorer.
Empty Recycle bin.
Restart the computer.
In non-techie terms:
Dablio Ransomware is a malicious application that can ruin your most precious files, for example, photos, videos, or other data, in only a few minutes. Unfortunately, the only way to save such data is to decrypt it with a unique decryption key generated during the encryption process. As we said earlier, this decryption key should be available only to the malware's developers who seek to gain money in exchange for it. In other words, getting your files decrypted might be not only a risk but also an impossible task. The hackers may have the means to decrypt your data, but it does not mean they will deliver them even if you pay the agreed price. This is why our computer security specialists advise not to deal with the hackers and get rid of the malicious application with the removal guide available a bit above the text or a reputable antimalware tool of your choice. After the computer is malware-free again, it ought to be safe to replace encrypted files with backup copies you might keep on cloud storage or removable media devices.