Do you know what CYR-Locker Ransomware is?
CYR-Locker Ransomware is a malicious infection that is clearly underdeveloped. You still should take it seriously, however, because there is no saying what this program could do later on if its developers release a far better version.
It goes without saying that once you notice that your computer has been compromised by this ransomware infection, you need to do everything in your power to get rid of this application. You can remove CYR-Locker Ransomware manually, but you must not forget that you should ensure your computer's safety by investing in legitimate antispyware programs.
There are two main aspects we usually cover when we talk about ransomware infections. Those are spam email messages and file encryption. We have to mention spam email messages because that is the main distribution vector employed by ransomware creators. So, it is very likely that CYR-Locker Ransomware also arrives at your computer through spam email attachments. Of course, spam emails are not the only vehicle for ransomware distribution. These programs can also spread through website exploits, so users could get infected with CYR-Locker Ransomware via corrupted web pages when they jump from one pop-up to the other.
These distribution methods tell us one thing: it is possible to avoid getting infected with ransomware if users were to be more attentive and more careful. That is why you should think twice before downloading attachments delivered from unfamiliar senders. You should not be so quick to click a pop-up on an unfamiliar website. There are far too many threats out there, and malware developers always hope that unsuspecting users would fall into their trap. It is far better to avoid malware infection altogether than to battle it. Of course, CYR-Locker Ransomware is not as dangerous and most of the ransomware applications, but you should not take your chances.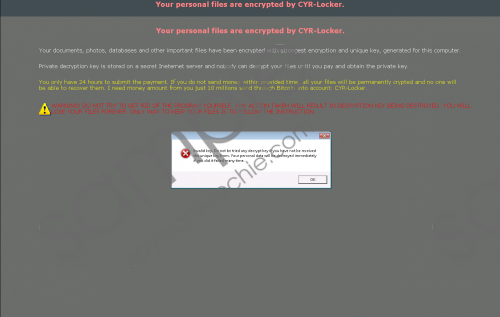 CYR-Locker Ransomware screenshot
Scroll down for full removal instructions
Now, the second element that is common to almost all ransomware infections is the encryption. We mean the file encryption with a sophisticated encryption algorithm. CYR-Locker Ransomware, on the other hand, does not encrypt user's file. It merely locks your screen. What's more, it does not connect to remote servers and does not try to destroy your files in any other manner.
Our research team suggests that the infection is still being tested, so later on a more sophisticated version of this program might come out, and then you would have to go through a genuine file encryption. The program is actually pretty new because it was compiled in November 2016, and it was first detected in February 2017. So it is only a matter of time until it grows into something nasty.
Even if CYR-Locker Ransomware does not lock your files, it can still give you a decent fright because the program slaps a ransom note across your screen which reads:
Your personal files are encrypted by CYR-Locker.
<…>
Private decryption key is stored on a secret Internet server and nobody can decrypt your files until you pay and obtain the private key.

You only have 24 hours to submit the payment. If you do not send money within provided time, all your files will be permanently crypted and no one will be able to recover them. I need money amount from you just 10 millions send through Bitcoin into account: CYR-Locker.
The message definitely sounds threatening, but it highly unrealistic. Bitcoins are extremely expensive, and practically no one would be able to acquire millions of Bitcoins to pay the supposed ransom fee. Second, you do not even need to pay anything because the infection does not encrypt your files. So you just have to focus on the removal, and you will be just fine.
You will have to click the Decrypt Key button to remove CYR-Locker Ransomware from your system. You need to do that because you have to kill the process responsible for the message, first. After that, you have to find the most recently downloaded files that launched the infection.
Once you have all these files removed, be sure to scan your computer with an antispyware tool of your choice. You have to be sure that you have terminated all the potential threats and malicious files for good. And the best way to check it is to rely on a professional security application.
How to Remove CYR-Locker Ransomware
Press the Decryption Key button on ransom note.
Click OK on the pop-up box.
Wait for Start menu to open.
Run Start Task Manager.
Click the Processes tab and terminate suspicious processes.
Navigate to the Download folder.
Locate the most recently downloaded files.
Delete the files and run a full system scan.
In non-techie terms:
CYR-Locker Ransomware is an annoying infection that will try to make you pay money for nothing. It only wants to rip you off, making you think that you are paying for a decryption key. But this program cannot do anything to your files, so you just have to remove CYR-Locker Ransomware from your computer, and then safeguard your system against similar intruders in the future. That can be achieved by investing in a licensed antispyware tool, and staying away from unfamiliar websites that are full of annoying pop-ups.