Do you know what CWA Donation Slider is?
CWA Donation Slider is identified as an advertisement-supported program because it can display banner ads. The question is whether these advertisements can be trusted. As you might know, most ad-supported programs are controlled by questionable parties and are used as advertising platforms by unreliable advertisers. Needless to say, this kind of adware requires immediate removal. Should you delete CWA Donation Slider? This is the question we have decided to tackle with this article. If you continue reading, you will learn how to recognize unreliable ads and how to remove adware from your Windows operating system.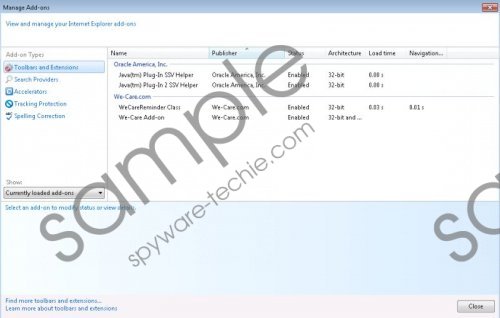 CWA Donation Slider screenshot
Scroll down for full removal instructions
The suspicious CWA Donation Slider might appear if you download we-care.com-related software. This is a charity organization that collects donations using online purchases that users make. The vendors associated with the organization include Sony, UPS, Nordstrom, Lacoste, and 2,500 others. CWA Donation Slider is meant to display coupons when you visit the online web stores of the associated vendors, and, if you use these coupons, a portion of the sum is supposed to go to charity. This is a great cause, but it is still unclear whether you can trust it or whether you should remove CWA Donation Slider. Luckily, it is not difficult to delete CWA Donation Slider from your operating system. All that you have to do is remove the ad-supported program associated with this slider, such as ASPCA Reminder by We-Care.com.
If you do not want to face the suspicious banner advertisements presented by CWA Donation Slider, you need to delete this adware. However, if you find the presented coupons useful, and you want to support the cause, you must keep in mind that certain risks are always present when it comes to third-party links and advertisements. If you do not want to remove CWA Donation Slider, it is absolutely necessary that you install an authentic security tool that could detect and remove malware if it does try to slither in. In fact, you should install this software to protect you against malicious programs even if you choose to remove CWA Donation Slider.
Delete CWA Donation Slider
Delete from Windows XP
Move your cursor to the left of the Taskbar and click the Start button.
Select Control Panel to access a menu presenting more tools.
Double-click Add or Remove Programs.
In the menu on the left select Change or Remove Programs.
Select the undesirable program and click Remove.
Delete from Windows Vista/Windows 7/Windows 8/Windows 8.1
Simultaneously tap Win+R keys on your keyboard to launch RUN.
Enter Control Panel into the dialog box and click OK.
Select Uninstall a program and identify the undesirable software.
Right-click the program you have chosen to remove and select Uninstall.
In non-techie terms:
Our malware researchers do not believe that CWA Donation Slider is an extremely dangerous threat to your virtual security, but it is obvious that this application can display links to third-party sites, and this is always dangerous. Therefore, if you choose not to remove CWA Donation Slider, you have to be extremely cautious. Of course, we think that it is best to delete CWA Donation Slider, because this is not the most useful or reliable tool when it comes to online donations. Follow the manual removal guide above, or install automatic malware removal software.